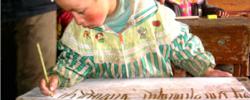 Boulder, Colorado (PRWEB) May 12, 2012
Non-profit organization Tibetan Village Project works to bring educational opportunities to children in rural Tibet. They provide teacher stipends, school supplies, buildings, greenhouses, and scholarships. With these initiatives TVP hopes to educate and empower the next generation of Tibetan leaders, and help preserve important aspects of Tibetan culture in the face of rapid modernization.
One major TVP education project is the Thangka Training center. This school is located in Tagong, a city in western Sichuan. The school takes in orphans and children from rural and impoverished families in the surrounding countryside. The students are given a basic education in addition to monastic training and lessons in Thangka-making. Thangka is a traditional style of painting in Tibetan Buddhist tradition that depicts deities or spiritual images and patterns. TVP and its donors hope that the training center will give students the means to earn their own income in the future while preserving Tibetan cultural and spiritual practice.
The main difficulty with providing education to rural Tibetans is finding qualified teachers willing to work in remote locations. The villages in these areas are also poor, and can't afford to pay teachers a competitive salary. TVP addresses this problem by supporting teachers in several schools in Kham (western Sichuan Province) and Central Tibet by providing them with stipends on a yearly basis. Having a stable source of funding and committed teachers ensures that students can continue to progress in their studies.
For students seeking high school and college educations, funds are limited. In 2011 the NGO Kham Aid Foundation ceased operations and TVP took on 29 sponsorship programs for students in high schools, vocational schools, and colleges.
"The cost of tuition in these students is prohibitive for rural Tibetan families, especially those who are outside the cash economy or where the children have lost one or both parents," a TVP spokesperson said. The TVP scholarship program offers an alternative source of funding for children, who would otherwise have little opportunity to improve their situation.
TVP gives scholarships to 24 college students who lost their parents in the devastating Yushu earthquake of April 2010. Tibetan children often rely on their extended family to pool resources to support their education. The earthquake devastated many families and destroyed this support system, a problem that TVP seeks to address with its scholarship program. The program relies on sponsors to fund individual students.
TVP also provides school supplies, coats, and blankets to 6 different schools. Most of the school supply fundraising and distribution is undertaken by volunteers who travel to Tibet on trips with Conscious Journeys, TVP's partner organization. TVP has also built seven school greenhouses, including one for the Thangka Training Center. These gardens provide food, promote healthier diets, and generate income from the sale of surplus vegetables in high-yield seasons.
Tibetan Village Project is a non-profit, non-political organization dedicated to promoting sustainable development while preserving the rich cultural heritage of Tibet. TVP's projects are small-scale initiatives that work directly with Tibetan villagers and with local government through project-coordinators chosen from each village who know the local situation, understand the culture, and speak the language.