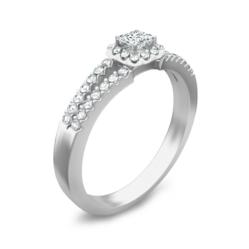 Amethyst rings can be used as engagement rings and as fashion rings by women
Cockeysville, MD (PRWEB) May 12, 2012
Amethyst is one of the oldest Gemstones used in jewelry. Amethyst rings have been discovered from ancient Greek and Roman civilizations. There is something very attractive about this beautiful purple gemstone, that has always attracted both men and women. Amethyst is now making a big comeback this summer. Amethyst rings are being spotted on many celebrities and it is further fueling the excitement behind Amethyst gemstone. JewelOcean is now proud to announce an entire new collection made with Amethyst gemstone which goes on sale from May 14tH, onward.
Throughout the last 2000 years, Amethyst has been subject to numerous myths and legends. This purple color gemstone has always attracted a lot of attention. One of the most popular myths around Amethyst is that it prevents the users from getting intoxicated. As such Amethyst rings were often worn by both men and women during evening parties which involved heavy drinking. In the present times, Amethyst has found its place as the birthstone for the month of February. As a result, it has always been very popular with women who were born in this month, who used it as Amethyst engagement rings.
The new Amethyst rings collection at JewelOcean has something for everyone. The collection features beautiful styles of Amethyst engagement rings which are made with Amethyst and diamonds. These Amethyst engagement rings are set on gold, and customer can choose between white gold, rose gold and yellow gold options. The collection also features 5 designs that showcase Amethyst halo engagement rings selection.
Since Amethyst has always been very popular with party goers, the new JewelOcean.com collection, has a beautiful lineup of Amethyst fashion rings or Amethyst cocktail rings, which are beautifully designed and are available at very affordable prices. These Amethyst rings would be perfect for any party occasion.
The collection also showcases Amethyst rings which are designed keeping the young couples in mind. These Amethyst promise rings are made in silver and therefore they are available at very inexpensive and affordable prices. Customers would love to know that the newly launched collection is available at special sale price for a limited time.
JewelOcean.com is a leading diamond rings retailer. The company has been selling wedding sets and diamond engagement rings that are very affordable and inexpensive. All the diamond rings made at JewelOcean, are made with real natural diamonds and on real solid gold. By providing excellent customer service, JewelOcean.com has received countless positive reviews and positive customer ratings. For more details on the new Amethyst rings collection at JewelOcean, please visit the company website.