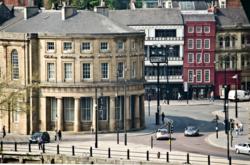 Newcastle upon Tyne is a prime example of the North-East's commitment to innovation and entrepreneurship, it's no wonder that the city is breaking records
UK (PRWEB UK) 12 May 2012
Newcastle upon Tyne: Using official data from Companies House, formations agents Duport.co.uk have uncovered figures that show that Newcastle has experienced its best ever April performance for new start-up companies.
191 new companies were formed in Newcastle in April 2012, this is an 18% increase on the previous record of 162, set in April 2010.
"Newcastle upon Tyne is a prime example of the North-East's commitment to innovation and entrepreneurship," stated Duport.co.uk Managing Director, Peter Valaitis, "it's no wonder that the city is breaking records."
But business owners in Newcastle and across the North-East are still concerned about a fragile economy, according to a recent statement from the region's Shadow Monetary Policy Committee.
The North-East regional Shadow Monetary Policy Committee is a partnership between local business owners, representatives of industry, unions and business organisations, and meets before the Bank of England makes its monthly announcement regarding interest rate policy.
During their May meeting, the committee discussed the effects of a possible interest rate rise on North-East businesses, with 11 of the 12 members in favour of the rate remaining at 0.5%.
"A couple of sectors - oil and gas and the automotive and offshore renewables manufacturing - are performing steadily in the North-East but there is still great concern in most other sectors as the construction sector is really struggling, retail and hospitality has flat levels of activity and the public sector is experiencing contraction," said Kevin Rowan, regional secretary of the Trades Union Congress.
With reports of established businesses struggling through the double-dip recession, the news that Newcastle has a new boom in company formations is heartening, as it is these new firms that can boost the economy and vitality of the city.
Duport.co.uk is a leading UK company formation agent, operating in the UK for around 15 years. Duport registers around 10,000 new companies each year using its Companies House approved software. The Company Register which is maintained by Companies House contains public information about Limited companies and directors.