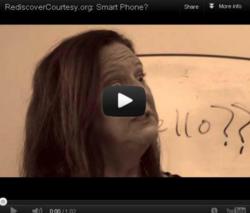 Naples, FL (PRWEB) May 12, 2012
RediscoverCourtesy.org, a project of Naples, Florida-based creative communications agency MindZoo, hopes to shed an ongoing, positive light on the benefits of professional courtesy relating to business relationships, interoffice communication, profitability, ethics, employee loyalty, and business operations.
With an understanding that our collective attention spans have become perilously short and our need for visual stimulation extremely high, RediscoverCourtesy.org has recently launched three short videos to bring its professional courtesy message to the public in an educational and entertaining manner. They are:
WHERE'S MY OFFICE?: A humorous spin on the infiltration of Gen-Y in the workplace. VIEW HERE
SMART PHONE?: A tongue-in-cheek look at the (mis)use of cell phones in the workplace. VIEW HERE
SECRET IDENTITY?: A comic, visual essay on vendor/buyer relationships in a conference setting. VIEW HERE
Having first launched in late 2011, RediscoverCourtesy.org has recently been featured on Public Radio's Marketplace with Kai Ryssdal and on CNBC.com. This additional visibility has also lead to an increase in inquiries on bringing RediscoverCourtesy.org's message to national conferences and seminars.
According to MindZoo President and RediscoverCourtesy.org Founder Randall Kenneth Jones, "Considering the power of humor in our YouTube-obsessed world, this is a natural and extremely fun next step. If this means we have to literally toss a perfectly good iPhone in the toilet, so be it."
Contacts:
Randall Kenneth Jones
239-304-9611
randy(at)mindzoo(dot)com
Virginia Canard
571-439-4709
virginia(at)mindzoo(dot)com
###
ABOUT:
RediscoverCourtesy.org is a project of MindZoo, a Naples, Florida-based creative communications firm. Founded in 2001, MindZoo strives to deliver unbridled creativity, proven experience, a positive approach, and matchless professional courtesy to each and every business relationship. For more information please call 239-304-9611 or visit RediscoverCourtesy.org or mindzoo.com.