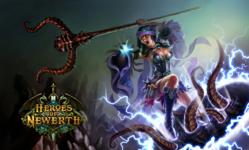 The passion and dedication of the HoN community continues to inspire us, and this celebration is really about the community and thanking everyone for their continued support of Heroes of Newerth.
Kalamazoo, MI (PRWEB) May 11, 2012
S2 Games, creators of the massively popular MOBA title Heroes of Newerth (HoN), is excited to celebrate the 2nd annual HoN-iversary with the release of a brand new game mode: Mid Wars. The direct result of input from HoN community members around the world, Mid Wars is a grassroots community initiative embraced and formalized by the S2 design team.
Launching today, this exciting new game mode distills the most intense pieces of the HoN experience into pure unadulterated fun. Mid Wars features a new map, an exclusive matchmaking system, and expedited skill progression to quickly maximize the potential of each hero. Additionally, respawn time has been slashed significantly and heroes will not lose gold upon death.
"This HoN-iversary, we are celebrating two years worth of development, community feedback, and commitment to all things HoN," said Marc Deforest, CEO and Founder of S2 Games. "The passion and dedication of the HoN community continues to inspire us, and this celebration is really about the community and thanking everyone for their continued support of Heroes of Newerth. Our time has been great, but what excites me the most is the journey to come. Expect big things from S2 in the future, as we continue to grow as a company."
After more than five years of development, 100 heroes, and hundreds of updates, the S2 Games team is proud to join the HoN community in celebrating two glorious years since HoN's launch on May 12, 2010. Players looking to take the plunge into HoN's Mid Wars and start playing the newest thing to hit the MOBA genre can do so by signing up for a FREE account today.
In addition to Mid Wars, S2 has many more HoN-iversary presents for the community:

Global HoN Challenge, May 7-13 – With over 450,000 active players around the world playing HoN daily, S2 will unite the Global HoN Playerbase in a race for Limited Edition In-Game Items all week long. By playing a game of HoN at any time during HoN-iversary week, each player can help unlock special items such as the new Kongor Courier, Kongor Taunt, and the Steampunk Electrician Alt Avatar as we aim for the stars and challenge gamers worldwide to play over 1.1 million games of HoN!
4x Silver Coin Matchmaking, May 11-13 - Players will receive 4-times the number of Silver Goblin coins awarded for each matchmaking game played during HoN-iversary weekend. Silver Goblin coins can be used at the In-Game shop for Alt Avatars, Heroes, and more.
The Newerth Fan Art Contest - The HoN-iversary is a celebration of community. S2 would like to thank all of the passionate and artistic members of the HoN community for their amazing tributes! Every entrant placed their talents on the line and brought their own HoN-iversary flavor to the contest. After much deliberation, we are happy to announce the results.
iGames LAN Centers HoN-iversary Blowout, May 11-13 – iGames LAN centers across the US and Canada have joined forces with S2 Games to bring Heroes of Newerth to a neighborhood just around the corner. Join the HoN-iversary fun this weekend at a participating iGames LAN center to gain free access to 100+ non-Early Access heroes. Players will also have the opportunity to score a HoN-iversary Swag Bag and a free copy of the Ranged Intelligence Hero Rift Mage, who debuts this weekend. Participating iGames LAN centers can be found at.
Howie's Game Shack HoN-iversary Tournament Series – Howie's Game Shack locations across California and Arizona have hosted weekend HoN tournaments for nearly 3 weeks. This weekend, the biggest Tournament is underway. Players should race into Howie's Game Shack today to sign up for the $4800 cash Tournament and pick up their complimentary Swag Bag packed with gold goblin coins and much, much, more. Participants must be 18 years or older, but for complete details check out http://www.howies.com.
The HoN-iversary celebration may only come once a year, but Heroes of Newerth is growing faster than ever before. From the release of a new game mode to special limited edition prizes and giveaways, the guest of honor this HoN-iversary season is going to be anyone and everyone ready to Get It HoN! For the latest news regarding HoN and to catch your first look at Mid Wars, please visit http://www.heroesofnewerth.com.
About S2 Games
S2 Games is a game publisher and developer with a mission to identify, develop, evolve and unleash the future of online multiplayer games. Since its inception in 2003, S2 has been focused on driving innovation into the global online game space, through identifying and solving industry issues, listening closely to its passionate gamer base and incorporating features that gamers truly want.
Active in sponsoring and helping drive many global tournaments for their flagship title Heroes of Newerth, S2 is focused on providing the best online multiplayer gaming experience and opportunities for its fans to shine. For more information about S2, please visit http://www.s2games.com.
# # #
Media Contact:
AnnaMaria White
press(at)s2games (dot) com