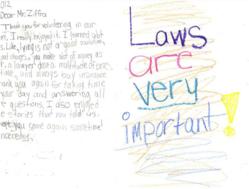 Port Orange, FL (PRWEB) May 12, 2012
Attorney Allan L. Ziffra recently spent a morning talking shop with a group of students about everything from the importance of bicycle safety to the consequences of lying.
Ziffra – president of the Port Orange-based law firm of Rue & Ziffra – observed National Law Day on May 2 by addressing the 4th grade students at Sugar Mill Elementary School in Port Orange.
A nationally-celebrated day, Law Day first was observed in 1958 when President Dwight D. Eisenhower proclaimed it to strengthen the United States' legal heritage of liberty, justice, and equality.
During his Wednesday morning talk, Ziffra said he explained to the students about the legal profession, the different fields of law, and the basic concept or definition of legal terminology such as depositions and mediation.
"We wanted to talk to the students about the law itself and what laws mean in our country," Ziffra said. "We expected questions, but were surprised with the thoughtfulness of their queries and their delightful follow-up 'Thank You' letters."
The students' introspective letters ranged from words of appreciation of Ziffra's information: "I really didn't want to be a lawyer, but now I do because I have lots of information about it," and "Lying is not the solution," to compliments on his material: "I really enjoyed all your crazy stories."
About Rue & Ziffra: Founded by John D. Rue and Allan L. Ziffra, the personal-injury law firm of Rue & Ziffra has served the Central Florida community for 30 years. The firm's commitment to its profession and its clients has earned it a reputation as one of the top personal-injury law firms in Central Florida. Known for handling everything from automobile and motorcycle accidents to medical malpractice, wrongful death, and social security and disability cases, Rue & Ziffra has recovered millions of dollars for injured clients and their families. With a staff of nine attorneys, the firm maintains offices in Port Orange, DeLand and Palm Coast. For more information, visit http://www.rueziffra.com.
For more information about this release, please contact:
Allan L. Ziffra, President, Rue & Ziffra P.A., 386-788-7700 or aziffra(at)rueziffra(dot)com
Jessica Eckelbarger, Marketing Director, Rue & Ziffra, 386-788-7700 or jessicae(at)rueziffra(dot)com
Charlene Hager-Van Dyke, Larry Vershel Communications, 386-532-8862, 407-644-4142 or chagervandyke(at)yahoo(dot)com