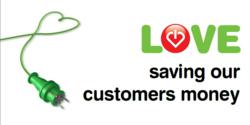 Visit our social media sites to find out how to save money on business and home energy
Manchester (PRWEB UK) 13 May 2012
Social Media is a huge part of Love Energy Savings communications strategy which is being rolled out UK wide over the next three months. Twitter, Facebook and LinkedIn are integral to the strategy and ensure that customers are connected on different platforms and are continually being updated with news, advice and importantly how to save money on your business energy if you contract is approaching renewal.
Love Energy Savings employs 140 energy experts who deal with customers over the phone. The online strategy has been devised to ensure that we are talking to our customers online as well as offline, via the phone making sure that the journey and experience online is similar to that taken offline. Love Energy Savings believe in making their free impartial service accessible to everyone and enjoy creating opportunities for people to connect via various media channels. Love Energy Savings aim to ensure a perfect customer experience online as well as offline whilst getting them the best deals in cheap gas and cheap electricity.
Gemma Bailey Marketing Manager of Love Energy Savings stated "It is important Love Energy Savings connects with the UK on different platforms in order to help them save money on their gas and electricity. On average we save each small business £1050 per year on gas and business electricity.
The social media sites are designed to offer impartial advice and save people money."
The individual sites can be found by clicking the links below:
Twitter - https://twitter.com/#!/LoveEnergySavin
Facebook - http://www.facebook.com/loveenergysavings.
Both accounts aim to give advice to people on how to stop being caught in expensive rolling contracts and save money on home and business energy bills.
Love Energy Savings are running competitions on both Facebook and Twitter for interactive users to join their pages. They are giving away a £100 high street shopping voucher to a winner drawn out on the top 200 likes on Facebook and the top 300 likes on twitter.
For more information about Love Energy Savings please visit http://www.loveenergysavings.com, visit Facebook or Twitter or to talk to an advisor please call 08000932791.