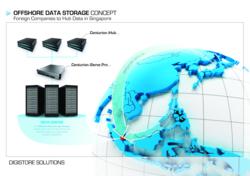 Singapore is being seen as an "offshore data storage" provider for foreign companies to hub their valuable information ... as part of overseas business continuity planning and IT disaster recovery plan
SINGAPORE (PRWEB) May 13, 2012
Digistore Solutions, an internationally known supplier of data and information management products and solutions, is excited to showcase its Private Cloud Computing and Offshore Data Storage concept that utilizes the company's next-generation hybrid network attached storage (NAS), Centurion iServe Pro and automatic optical disc storage library, Centurion iHub, at the Cloud Asia 2012 from May 14 – 17, 2012.
The Centurion iServe Pro connects seamlessly with the Centurion iHub, enabling less critical and less frequently accessed data and aging content, such as documents, images and media files, to be automatically transferred to optical discs, ensuring data integrity and at the same time, remains accessible to users. This unique and innovative architecture brings new efficiency gains in performance, as frequently accessed data remains within the Centurion iServe Pro in the first tier of online storage and less frequently used data in the second tier, which is the Centurion iHub as nearline storage. Digistore Solutions has also partnered with JVC Advanced Media, a subsidiary owned by Victor Advanced Media from Japan for their long-term archival grade optical discs, which passed ISO/IEC 10995 Certification – the worldwide standard defining archival lifetime to ensure longevity or to satisfy compliance regulations.
"As a group company of the world inventor of write-once optical recordable media, we have been working on setting these internationally standardized optical disc formats fined tuned and adapted for the application of long-term preservation for data, required to archive complying to either regulatory or requirements by individual case, but becoming less accessed. We are pleased to contribute to the global concern such as fast paced growing data with high energy consumptions in data centres environment providing this ISO longevity-test-passed-solution with variety of advantageous features of optical disc to Singapore partnering with Digistore Solutions", said Takao Akaishi, General Manager of Victor Advanced Media.
"Our optical disc technology combined with Centurion iServe Pro and Centurion iHub indeed will bring the solution to data centre industry for archival grade data to be archived safe and efficient", added Takao Akaishi.
"We are very pleased to have partnered with JVC Advanced Media for their optical discs which in our opinion, the truly long term archival optical discs in the world today backed by international standard ISO/IEC10995", said Victor Foo, Chief Executive Officer of Digistore Solutions.
The Centurion iServe Pro and Centurion iHub allow data centre customers to deploy our innovative storage solutions to wrestle the ever growing issues of rapidly increasing data, and addressing the challenges that come with storing and managing it. In addition, it also leverages on private cloud services for offshore data holdings as part of overseas business continuity planning and IT disaster recovery plan. The Centurion iServe Pro and Centurion iHub build a bridge between the data centre and distributed storage environments and allows foreign companies to extend the benefits of private cloud storage networking.
"Given that the growth of stored data will continue at an ever increasing pace, our unique hybrid storage environment will change the data storage landscape forever. It empowers business to retain all of their data, minimizing the potential for data loss, reduce the cost of storage and automate many data management tasks", added Victor Foo.
"For businesses, particularly from disaster prone countries, looking to operate in this space, particularly with cross-border data holdings, long-term confidence in the accessibility and management of information needs to be managed. Singapore is being seen as an "offshore data storage" provider for foreign companies to hub their valuable information in Singapore because they may have different and varying legal controls over storage and accessibility of data. Our jurisdiction in Singapore is transparent and straightforward as to who might have access to their information. Moreover, Singapore has good infrastructure as high-speed cable and, or fiber broadband and proximity to other locations in the Asia Pacific region and beyond", added Victor Foo.
About Digistore Solutions
Digistore Solutions (S) Pte. Ltd., headquartered in Singapore with its US headquarters in Wilmington, DE, delivers worldwide enterprise-class storage solutions and services that keep business critical information and applications accessible. The company delivers the advantages of business continuity through automation with information protection, application availability and storage management solutions. Digistore Solutions is an emerging market leader in data storage and is already providing solutions to a wide range of business and market segments.
Digistore Solutions – Powering Information Access
About JVC
JVC is a brand name of Victor Advanced Media Co., Ltd., headquartered in Japan having its sales subsidiaries in US, Europe and China, for optical discs. Victor Advanced Media is a joint venture company between Taiyo Yuden Co., Ltd. and JVC KENWOOD Corporation, delivering world first archival grade solutions complying to International standards, with optical discs throughout the world.
###
This release may contain forward-looking statements that reflect the management's current views of future events and operations. These forward-looking statements are based on assumptions and external factors, including assumptions relating to regulatory action, capital requirements and competing products. Any changes in such assumptions or external factors could produce significantly different results.