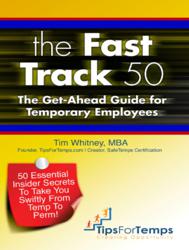 Tim Whitney's wisdom is spot-on, confidence-building, and so applicable to real-world scenarios in the workforce.
Detroit, MI (PRWEB) May 14, 2012
On Tuesday, May 15, 2012, at 5 p.m., Dallas, TX executive and philanthropist Tim Whitney will bring his advice and experience on turning temporary and unemployed workers into fulltime employees to the national stage.
That's when Whitney will make his debut appearance on Caroline Dowd-Higgins's acclaimed CBS Radio show, Career Coach Caroline, one of the few national programs in the nation designed specifically to improve the careers of those who listen.
"I am very pleased to have Tim as an expert guest," says Dowd-Higgins.
Whitney is the author of The Fast Track 50: The Get-Ahead Guide for Temporary Employees (Bancroft Press, 2012), a book of 50 tips and tools designed to help struggling would-be workers.
"By most accounts, there are 3 million people in America who are seeking and accepting temporary work, and the latest unemployment statistics show that number increasing substantially," says Whitney. "Recalling my dealings with thousands upon thousands of temps, I put together the top 50 things they need to know so they can get ahead."
Whitney's efforts, in fact, have extended beyond the book to a philanthropic campaign, Fast Track Jobs, designed to distribute his book for free to those who can most benefit.
"Let's face it," says Whitney. "These are the folks who need it, but don't necessarily have the money to buy a book."
"The Fast Track 50 is a wonderful resource, and the pocket guide makes it an ideal size—portable, and filled with great advice and action steps," says Dowd-Higgins. "Tim Whitney's wisdom is spot-on, confidence-building, and so applicable to real-world scenarios in the workforce."
Dowd-Higgins is the author of the acclaimed book This Is Not the Career I Ordered. Between her role as director of career and professional development at the Indiana University Maurer School of Law and more than a decade of coaching experience, she's an acknowledged expert on helping listeners improve their lives and careers, making Career Coach Caroline, in Whitney's view, the ideal place to debut his book to a national audience.
"I hope to be able to share with a larger audience how following even some of these 50 actions, attitudes, and behaviors can increase their chances of long-term success," says Whitney.
If Whitney's goal is indeed to share these ideas with a larger audience, Career Coach Caroline would indeed seem to be an ideal venue. Her show reaches move than 40,000 listeners around the country and in Canada.
"I want to help temp employees and entry-level employees who just need a little edge," says Whitney. "At the end of the day, this is too good of a tool to sit on the shelf unused.
Whitney appears on Career Coach Caroline on CBS Radio this Tuesday, May 15 at 5 p.m. His book is available at Amazon, Barnes & Noble, and wherever books are sold.