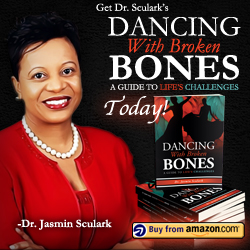 "This book is a powerful reminder of the capacity God has put within us..."
Dr. Lance D. Watson
York, Pennsylvania (PRWEB) May 12, 2012
The Marketing Genie Inc., a multimedia advertising agency based in Baltimore, Maryland, announces the release of client,Dr. Jasmin Sculark's new book entitled, "Dancing with Broken Bones – A Guide to Life's Challenges". Dr. Jasmin Sculark book was released on May 5, 2012. "Dancing with Broken Bones" aims to help people in their spiritual lives by injecting personal experiences and life lessons with Biblically-based fundamental principles. Her messages are a concise breath of hope that, through God's guidance and acceptance in His word, readers can overcome life's greatest challenges and obstacles.
From a literary perspective, "Dancing with Broken Bones" is a blend of narratives and affirmations, which will touch the lives of readers, regardless of their religious views. Dr. Sculark's ability to convert her personal pain and adversity into engaging pages of sheer inspiration secures her position as an author. Jasmin Sculark's "Dancing with Broken Bones – A Guide to Life's Challenges" encourages all that no situation is hopeless and help can often come from the most unexpected places.
Dr. Jasmin W. Sculark, known as "Dr. Jazz" is a native of the Island of Trinidad and Tobago. Dr. Sculark accepted the Lord Jesus Christ at a very early age. Shortly after she accepted God's calling upon her life she went into full-time ministry. She received her license to preach the Gospel on February 4, 1992 at the Mt. Pleasant Baptist Church, Washington DC and was ordained in July 1999 at the Mt. Olivet Baptist Church in Columbus, Ohio.
Dr. Jasmin W. Sculark is the Senior Pastor of the Shiloh Baptist Church in York, Pennsylvania and she is the founder of Daughter of Thunder, ministries.The Marketing Genie is a multimedia advertising agency, based in Baltimore, Maryland, that creates and markets creative content for businesses, authors, entertainment projects and political campaigns. Hard copies and digital versions of "Dancing With Broken Bones" can be purchased online at Amazon.com. To order hard copies of the book by telephone or to schedule preaching/speaking engagements, contact Valerie Wintermeyers at sbcoffice(at)sbcyork(dot)org (717) 854-2547 Ext. 21 or visit the official website at http://www.JasminSculark.com.