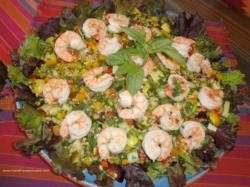 "Most people eat various forms of wheat, barley, and oats, but celiacs need to know what gluten-free grains to choose and how to prepare them," says Fenster, author of 1,000 Gluten-Free Recipes.
Denver, CO (PRWEB) May 14, 2012
In celebration of May as National Celiac Awareness Month, gluten-free cooking expert Carol Fenster offers tips for preparing whole grains that are safe for celiacs because they must avoid gluten, a protein in wheat and related grains.
Only about 40% of all Americans eat whole grains. Worse yet, they only eat one serving a day―far short of the 3 to 5 servings recommending by the USDA and the Whole Grains Council. "Most Americans eat various forms of wheat, barley, and oats, but celiacs need to know what gluten-free grains to choose and how to prepare them," says Fenster―whose recipes in her cookbook 1,000 Gluten-Free Recipes use every gluten-free grain on the market. Eating whole grains is particularly important for people with celiac disease―an autoimmune condition that hampers absorption of nutrients from food―because the protein, fiber, and vitamins in whole grains is vital for good health.
Grains are considered "whole" if they include all 3 parts―germ, endosperm, and bran―but can also include the seeds of plants. So we lump amaranth, brown rice, buckwheat, quinoa, sorghum, and teff together when discussing whole grains. Oats are inherently gluten-free, but can be contaminated when grown and processed in proximity to wheat so always look for oats labeled "gluten-free".
Fenster suggests 4 ways to incorporate more whole grains into a gluten-free diet:
[1] Eat cooked whole grains as main dishes, breakfast cereal, and side dishes.
Cooked whole grains can star in grain salads, which are basically assembled like a mixed green salad and tossed with a vinaigrette dressing. For breakfast, cook a batch of whole grains ahead of time (on the stovetop or in a slow-cooker) and store in the fridge. Topped with honey and cinnamon, cooked whole grains― such as amaranth, brown rice, buckwheat, quinoa, or sorghum―make a quick, hearty breakfast with important nutrients that other people get from wheat-based cereals. Dressed up with savory herbs and spices, those same cooked grains can replace white rice as a side dish with dinner entrées.
[2] Incorporate cooked whole grains into main dishes and sides.
Small amounts of leftover cooked whole grains can be tossed with gluten-free pasta, sprinkled over mixed green salads, or mixed with black beans or pinto beans in Southwestern dishes. Adding these grains not only boosts the nutrient content of these dishes but they also add interesting texture. "These amounts may seem small, but a serving of cooked whole grains is only 8 tablespoons, so a tablespoon here and there really adds up throughout the day," says Fenster, who co-authored a guide to eating gluten-free whole grains.
[3] Add cooked whole grains to baked goods.
While gluten-free flours provide the backbone of gluten-free baked goods, cooked whole grains―such as amaranth, buckwheat, gluten-free rolled oats or oat bran, quinoa, sorghum, and teff―can be added in small amounts to bread, cookie, or bar dough without upsetting the delicate balance between liquid and dry ingredients. Fenster adds about ¼ cup to ½ cup per recipe and then judges whether more liquid is needed on a recipe-by-recipe basis. Other seeds that are very nutritious include chia, hemp, or kańiwa (baby quinoa) and Fenster adds them to yogurt, granola, or smoothies.
[4] Purchase ready-made gluten-free foods made with whole grains.
"You can also get whole grains from ready-made gluten-free products," says Fenster. Look for the yellow Whole Grains Stamp on a variety of products such as gluten-free cereals, breads, and crackers. Eating three whole grain food products labeled "100% Whole Grain"–– or six products bearing ANY Whole Grain Stamp––satisfies the need for 3 to 5 servings per day.
"Given all these creative ways to add whole grains to the gluten-free diet, everyone should use National Celiac Awareness Month as a catalyst to increase our intake of gluten-free whole grains," says Fenster.