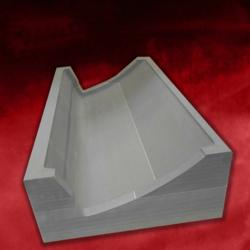 This tooling board is ideal for models, master plugs and molds, as well as for limited tooling runs where metal dies are cost-prohibitive.
Tacoma, WA (PRWEB) May 14, 2012
General Plastics Manufacturing Company will participate in the 2012 SAMPE conference May 21-24 in Baltimore, Maryland – the premier event for the advanced materials and processes industry. The company will highlight its aerospace-specific products at Booth #724, and will exhibit in conjunction with its distribution partners Coast-Line International (Booth #1534) and Rudolph Bros. & Co. (Booth #1204). All three will spotlight General Plastics' LAST-A-FOAM® FR-4700 HT Tooling Board Series and its aerospace-grade foam boards.
"This show is a great opportunity to introduce our enhanced LAST-A-FOAM® FR-4700 HT Tooling Board Series, which supports high-temperature curing pre-pregs used in composite tooling," said General Plastics President Bruce Lind. "This tooling board is ideal for models, master plugs and molds, as well as for limited tooling runs where metal dies are cost-prohibitive."
Beyond making molds for short-run composite tools highly affordable, the FR-4700 Series products offer superb stability and versatility. Their higher glass transition temperature and low coefficient of thermal expansion (CTE) make them suitable for use in vacuum-forming applications where other urethane products may soften or deform.
"Our distributor partners are extremely knowledgeable regarding their high-temperature tooling board options, so they are well-equipped to assist in selecting the most appropriate, cost-effective solution for a project," Lind added. General Plastics products are distributed along the East Coast of the United States by Coast-Line International, and throughout the Ohio Valley by Rudolph Bros.
General Plastics' LAST-A-FOAM® FR-3700 and FR-6700 Aerospace-Grade Board Series will be featured at SAMPE as well. Both of these CFC-free, flame-retardant product lines are ideal for models and design prototypes; composite core; vacuum-form dies and mold patterns; and honeycomb edge closeout for aircraft interior sandwich panels (overhead stow bins, passenger cabin class dividers, galleys and lavatories).
General Plastics launches new aerospace sample kit and testing services
Lind also announced that General Plastics will introduce its new aerospace sample kit and testing services at the show.
"The market has been clamoring for a sample pack of our composite core and flexible foams that are specific to the aerospace industry, so we are very excited to launch this "hands-on" kit at SAMPE," said Lind. "This will give visitors to the General Plastics, Coast-Line and Rudolph Bros. booths a true feel for our foam materials, build-to-print composite parts and other engineered products."
Lind also noted that the company has provided testing for more than 10 years to customers in the aerospace industry as a natural extension of its internal testing, but until now had not actively promoted its capabilities. General Plastics' Testing Services Group offers flammability, physical property and developmental testing services in its onsite testing laboratories, which include an FAA-certified burn-test facility and onsite FAA witnessing.
"We provide everything from R&D testing, to pre-testing of a proposed design, to testing for final certification, and do it efficiently and cost-effectively," said Lind. "With optimal facilities and an expert testing team, it was time to change our "best-kept secret" status and let others know we are a convenient, proven resource."
About General Plastics Manufacturing Company
Tacoma, Washington-based General Plastics has been a leading innovator in the plastics industry for more than 70 years. The company develops and manufactures rigid and flexible polyurethane foam products, which include its signature LAST-A-FOAM® brand series and build-to-print composite parts. Through its network of distributors, General Plastics exports products to 25-plus countries for the aerospace and defense, nuclear containment, composite core, prototype and modeling, construction, dimensional signage, testing, marine and renewable energy industries. General Plastics is certified to ISO 9001:2008/AS9100C and meets such demanding quality systems as NQA-1, Mil-I-45208A and Boeing Company D6-82479. Visit http://www.generalplastics.com.
About Coast-Line International
Founded in 1960, Coast-Line International supplies a broad range of technically advanced products for the aerospace and composites industries. Its product line includes adhesives; cleaning products; core materials; fabricating supplies; unimpregnated fabrics; tools and tooling materials; thermoset pre-pregs; mold-release systems; reusable vacuum bags; and repair materials, equipment and services. Distribution facilities are located in Lindenhurst, N.Y; Berlin, Mass.; and Atlanta, Ga. Visit http://www.coast-lineintl.com.
About Rudolph Bros. & Co.
From its warehouse near Columbus, Ohio, Rudolph Bros. & Co. distributes specialty-formulation chemical products to domestic and international original-equipment manufacturers. Its product line includes aerospace and industrial adhesives; potting and encapsulating compounds; printed circuit-board conformal coatings; rapid prototyping materials; casting and tooling-related materials; mold-release agents; and surface treatments. Visit http://www.rudolphbros.com.