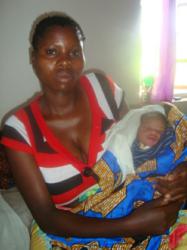 "My last two children were born on banana leaves, with help from my husband and women in my village," recalls Antoinette Androsi, 32.
New York, New York (PRWEB) May 11, 2012
Mother's Day, celebrated on May 13 in the United States, is a day of honor and appreciation of the mothers and women in our lives. From Congo to Chile, mothers-to-be have the same hopes but face different outcomes. This Mother's Day, here is one story of hope, survival and a celebration of motherhood from the Democratic Republic of the Congo (DRC).
"My last two children were born on banana leaves, with help from my husband and women in my village," recalls Antoinette Androsi, 32.
Because of their size, flexibility, prevalence and water resistance, banana leaves are a common delivery tool for rural families lacking proper medical resources in the DRC.
"A machete was used to cut their umbilical cords, and one of my children died a few days after she was born in the bush," continues Antoinette.
Antoinette is among the two million refugees displaced by civil war in the DRC. Because the fighting has destroyed hospitals and roads, many women can't access basic maternal health care. Like Antoinette, many expecting mothers in developing countries have no choice but to give birth at home or outdoors without a trained health worker.
Without access to medical tools, or skilled care, childbirth can be a threat to the life of a mother and her children. While Antoinette survived under these conditions, many mothers do not have the same fortune. Tragically, a woman's lifetime risk of maternal death is 1 in 24 in the DRC. An estimated 19,000 women in the DRC die of maternal causes each year.
New Hope
With the help of a midwife, Antoinette recently delivered her third child, a healthy baby, in a hospital maternity ward. It was her first time giving birth in a health facility with skilled birth attendants and a clean delivery kit provided by UNFPA, the United Nations Population Fund.
The clean delivery kit includes the bare essentials needed for a safe delivery, such as soap, gloves, a razor blade and a sheet. Having access to these basic supplies, alongside skilled care, is enough to save women and newborns from deadly but preventable infections, like tetanus. This kit, costing only $1.67, can make the difference between life and death.
Global Motherhood
Globally, the tragic fate of pregnant women is staggering. Every 90 seconds, a woman dies in pregnancy and childbirth around the world. Ninety percent of these deaths occur in the developing world, and nearly all of these deaths could have been prevented with assistance from entities like UNFPA.
UNFPA is on the ground in more than 150 countries, where it provides skilled care for women, like Antoinette, to ensure that no woman dies while giving life. Since becoming operational in 1969, UNFPA is the lead United Nations agency that expands the possibilities for women and young people to lead healthy sexual and reproductive lives.
"Women everywhere deserve a life of health, dignity and equality, says Valerie DeFillipo, President, Friends of UNFPA. "This Mother's Day honor your mother, while saving another through UNFPA, and make a difference in improving the lives of women worldwide."
This Mother's Day, join in solidarity with the women of the world to help make every day mother's day.
Send a E-card this Mother's Day (minimum $1 donation required)
Write a Message of Solidarity to a Congolese mother.
Make a gift to make every day Mother's Day for women like Antoinette.
$1.67 Can mean the difference between life and death for a mother and her newborn.
$50 Can deliver clean birthing kits of 30 women.
$150 Can provides supplies, medications and equipment to a rural health clinic to help safely manage many obstetric emergencies.
Learn More. Visit http://www.friendsofunfpa.org or http://www.unfpa.org
UNFPA is delivering a world where every pregnancy is wanted, every childbirth is safe, and every young person's potential is fulfilled. Friends of UNFPA advances this global effort by mobilizing funds and action for UNFPA's lifesaving work.
For More Information Contact:
Angeline Martyn, Director of Communications
646-649-9127 amartyn(at)friendsofunfpa(dot)org