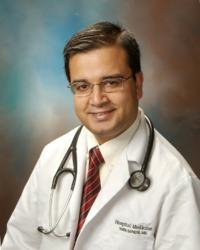 Omaha, NE (PRWEB) May 14, 2012
Nabin Sapkota, MD, a board certified internal medicine physician, has been working on the "Symptoms and Diagnosis" book project for a while. He releases his latest addition to the project called "Symptoms of Diabetes." He claims that the information presented in his writing is very different from other articles about diabetes available on the internet. He states that he has kept the same patient-centered style of writing that he used for the article on pneumonia symptoms. In his book, the Nebraska doctor plans to teach medicine to people without any medical background. He also wants to reject the traditional view of symptoms and diagnosis and present a new patient centered approach.
"The most important symptom of diabetes is no symptom at all. This is the most underreported fact about symptoms of diabetes. This is also the reason why diabetes is often diagnosed too late to prevent complications in many patients" says Dr. Sapkota.
Dr. Sapkota continues, "In our society people always want to know the common set of symptoms when they are concerned about any particular disease. Most people know about diabetes and want to find out if they might have the disease. They want to know the symptoms of diabetes and see if they have any of those symptoms. They feel relieved when they do not have any of the symptoms listed under the symptoms of diabetes. This traditional approach is not just wrong but is responsible for many missed diagnosis."
"When you have the usual symptoms of diabetes, you need to seek medical attention as soon as possible. But, the opposite is far from true. When you do not have the common symptoms of diabetes, it does not mean that you do not have diabetes. In fact, most patients with type 2 diabetes do not have any symptom for a long time. Type 2 diabetes is the most common type of diabetes in adults. If you put these two facts together, it is not difficult to see that the most common symptom of diabetes is no symptom at all. In fact, this information is clearly written as a footnote in the list of symptoms of diabetes published by the American Diabetes Association," says the Nebraska doctor.
The doctor continues, "Unlike other publications on diabetes, I believe this fact deserves to be on the headline instead of the footnote and that is exactly what I want to do in this section of the website. By highlighting this underreported fact about the symptoms of diabetes, I hope to encourage people to get tested for diabetes before they develop any complication from it. If people start to do that, many unnecessary sufferings can be avoided. The best time to keep diabetes under control is when it is in the early phase when the patient has no symptom at all."
This article on symptoms of diabetes can be found here: http://symptomsdiagnosisbook.com/patient-stories/symptoms-of-diabetes-2/