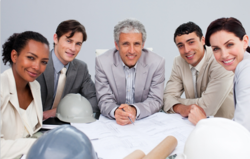 Medical Home Builder 2.0 provides primary care practices with an easy-to-use, self-paced means to improve office operations, quality and/or transition to a Patient-Centered Medical Home model.
Philadelphia, PA (PRWEB) May 17, 2012
Starting a medical practice requires specialized business and legal knowledge—areas generally not included in medical school curricula. Physicians are smart to be fully informed about legal issues, insurance, billing, marketing and finances. Then, once the practice is up and running, the medical practice will need to manage staffing and human resource issues.
Practice Basics and Human Resources—two new modules added to the American College of Physicians' Medical Home Builder online tool—address these critical issues. These additions to the popular online practice management tool from the American College of Physicians (ACP) are designed to help doctors successfully start (or expand) their practices and navigate the basics of human resource issues for clinical and administrative staff .
A robust, yet easy-to-use, self-paced online tool, Medical Home Builder 2.0 enables clinicians and their staffs to measure and—where needed—improve patient care, office procedures and procedural workflows.
"Managing a successful medical office in today's world requires sound business and management skills in addition to the necessary clinical training and education," said Dr. Michael S. Barr, ACP's senior vice president for the division of medical practice, professionalism and quality. "Before physicians can have their questions answered—they need know the right questions to ask. These new modules address the fundamental business and practice management concerns needed to start, or manage, a successful practice."
The Practice Basics module provides users with the framework for creating a sound practice. Fundamental issues covered include insurance, billing and collections, state and federal regulations, HIPAA, OSHA, Medicare Part D and workers' compensation. Issues related to setting up an in-office laboratory are also covered. Finally, the module addresses the essential, but often overlooked, task of developing a marketing and promotion plan for the practice.
Having the right people doing the right job at the right time is critical for any successful organization or medical practice. Important federal and state regulations apply to the management of clinical and administrative staff as well as generally recognized best practices. Unfortunately, many practices are either unaware of the regulations or mistakenly believe that good office communication can replace a formal review process. The Human Resources module covers federal employment regulations (state-by-state laws are not included) as well as proven personnel management policies.
"Many new offices do not spend enough effort on complying with applicable federal and state regulations or on establishing basic policies and procedures to guide office operations and personnel management," explained Michael Barr. "The recruitment and retention of qualified staff are essential parts of building a high quality, patient-centered practice."
This module includes links to information about many of the federal regulations regarding employees as well as practical articles and sample job descriptions, policies and procedures templates and other information needed for personnel management. It includes information for the employment of both clinicians and staff, including compensation and benefits.
Many of the resources provided in the Practice Basics module were identified by the ACP Council of Young Physicians based on the needs of residents going into practice.
Medical Home Builder 2.0 users are part of an online community of practices that are committed to improving patient care and office operations. Not every practice using Medical Home Builder is planning to become a recognized medical home—but all find value in the variety of modules available and guidance provided. Each person in participating practices has access to all of the content in the Medical Home Builder including the self-assessment questions, peer-to-peer videos and a community discussion forum where questions can be posed to colleagues. For more information, visit http://www.medicalhomebuilder.org.
About the American College of Physicians
The American College of Physicians is the largest medical specialty organization and the second-largest physician group in the United States. ACP members include 132,000 internal medicine physicians (internists), related subspecialists, and medical students, residents and fellows. Internists specialize in the prevention, detection, and treatment of illness in adults. Follow ACP on Twitter and Facebook.