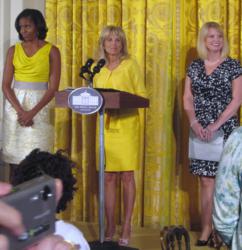 Pilcher said, "…moving and deployments are hard, however with the love and support of my husband and our family and friends, I am able to be a better military mom."
Washington DC (PRWEB) May 11, 2012
Mrs. Jennifer Pilcher, co-founder of Military1Click.com, military spouse and mom had the privilege of introducing The First Lady of The United States, Michelle Obama at a White House event on May 9, 2012, honoring military moms and their children. Mrs. Pilcher was joined by her two children, Katie, 9 and Griffin, 6 and her fellow military spouse co-founder, Kristi Hamrick and her son, Peirce, 9.
As The First Lady, Dr. Biden and Mrs. Pilcher entered the East Room a line of 45 beautifully dressed military children followed in behind them to surprise their moms with Mother's Day gifts of hand-made flower pots, cards and tea they created while in the formal state dining room.
During Pilcher's remarks she discussed how her family has proudly chosen to continue serving our country and they feel so fortunate to be part of such an extraordinary military community. Pilcher's husband is an active duty Navy pilot for over 16 years serving in Operation Enduring Freedom, Operation Iraqi Freedom and Operation New Dawn. Pilcher said, "…moving and deployments are hard, however with the love and support of my husband and our family and friends, I am able to be a better military mom." Mrs. Pilcher thanked The First Lady and Dr. Biden for spearheading the Joining Forces program which has created job opportunities with companies who understand the transient military lifestyle. Pilcher continued, "…the joining forces employers not only respect our challenges, they recognize the positive impact we have on their business."
Mrs. Pilcher concluded her remarks by thanking Mrs. Obama and Dr. Biden, "…for highlighting our commitment as military spouses and moms to our families and our country. We are grateful for the opportunities you have created, not only for us, but also for our future military spouses, moms and veterans."
Military1Click.com is a free website organization providing the best and newest resources for all families. Military1Click.com is celebrating Military Spouse Appreciation Day and Mother's Day with a special video tribute on their site, along with fun giveaway's and prizes. The song, I'm A Mother, is written and performed by Alicia Brown, an Air Force military spouse and mom. Military moms from around the world sent in photos with their children for this video honoring our nation's military spouses and moms.
For more information please visit http://www.military1click.com
E-mail: support(at)military1click(dot)com