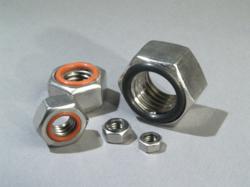 ZaGO determined the right seal nut design for the situation and the leak was resolved, said Harvey Rottenstrich, Lead Engineer at ZaGO.
Newark, New Jersey (PRWEB) May 22, 2012
ZaGO gave this leading OEM the optimal solution which was both practical and economical. ZaGO embedded Nitrile rubber into a hex nut as the perfect alternative to the conventional hex nut the OEM was previously using. Testing demonstrates that ZaGo Seal Nuts offer a significant advantage over regular nuts reducing emissions as it seals from inside the heater housing. Other advantages include that it comes in a simple, one piece design, is available in metric or standard sizes, is available in a wide range of rubbers and that it seals both the threads and the full circumference of the nut.
ZaGO sealing products can be found throughout the world, preventing leaks and saving money. ZaGO specializes in designing practical, economical, environmentally responsible sealing solutions that will ensure the long lasting and dependable operation of critical equipment. ZaGO's technical group is always available to work alongside its customers' engineers to create a unique design to fit their specifications and ensure the highest quality product.
ZaGO Manufacturing Company has been has been producing sealing products for nearly twenty years in Newark, New Jersey. Operating out of a state-of-the-art facility in south Newark in close proximity to Newark Airport, the Port of Newark and all of New Jersey's major transportation and mass transit routes, ZaGO makes daily shipments throughout the United States, Central and South America, Mexico, Canada, Europe and Asia.