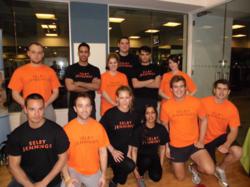 "We're so grateful to Selby Jennings who took to the sport with aplomb," commented Whizz-Kidz.
(PRWEB UK) 12 May 2012
On the evening of Thursday 10th May, 12 corporate teams from across the city gathered in the Reebook Centre, Canary Wharf, for an evening of light hearted Sitting Volleyball in aid of the Whizz-Kidz charity. Some teams were novices to the sport, others had clearly undergone some strategic pre-tournament practice sessions, but none were really prepared for what was in store for them.
Selby Jennings entered 2 teams into the tournament, who played alongside teams from firms including Goldman Sachs, UBS, Freshfields and the IT Job Board.
Despite the amateur nature of the event, it soon became apparent that everyone was in it to win it. Although they were beaten to the gold post, Selby Jennings were proud with their Volleyball debut. Plus there's always next year…
As well as being a thoroughly enjoyable evening for all who participated, the event raised over £8,500 for the Whizz-Kidz charity. This will help buy disabled children and young people the equipment they need to get mobile, and essential training to ensure they live a full and active childhood.
"We're so grateful to Selby Jennings who took to the sport with aplomb. The tournament was ultimately won by Freshfields - but well played Selby. Not only did all of the corporates who took part enjoy the competitive and accessible game, but each learned that inclusive team sport is a brilliant way of increasing young disabled people's confidence, leadership and independence," commented Whizz-Kidz.
Whizz-Kidz supports thousands of children across the UK every year and Selby Jennings sees charitable events such as this a very worthy cause to support.
Selby Jennings is a leading provider of recruitment solutions to financial institutions across Europe, the US, Asia and the Middle East. Since inception in 2004, Selby Jennings have been committed to supporting various charities, raising in excess of £35,000 in total for charities in 2011. Their charitable activities include participating in a November sleep-out for Reach Out Charity, growing moustaches for Movember, half marathons and charily races for Cleft, Childline and Make-A-Wish Foundation.
For further details about this event or Selby Jennings please contact Olivia.purton(at)selbyjennings(dot)com