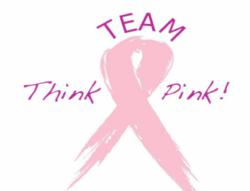 "We work with Danielle on a daily basis and we see what cancer does to her and her family," Rome said. "It's hard on her physically, mentally and financially. We do it to help people like Danielle."
Forty Fort, PA (PRWEB) May 14, 2012
For the past four years, owner of ReBath Northeast, Rich Rome has supported a local Relay for Life team by sponsoring fundraisers and giving a portion of his profits to help the team raise money for their annual relay fund.
Relay team "Think Pink" was established four years ago to honor cancer survivor and ReBath Northeast employee Danielle Cavanaugh, whose battle with cancer continues through its 18th year. Upon the founding of Think Pink, Rome did not hesitate to contribute by sponsoring events and donating money.
"We work with Danielle on a daily basis and we see what cancer does to her and her family," Rome said. "It's hard on her physically, mentally and financially. Fortunately, ReBath Northeast is able to contribute to the Think Pink relay team and give to a cause that can fight cancer in many ways, like providing care and funding research. We do it to help people like Danielle."
With the 24-hour relay walk set to take place May 19 and 20 at the Crestwood Area football field, fundraising for the event has been going on since last year's relay ended. Every year Think Pink does several major fundraisers and ReBath Northeast supports each one in some way. The major events include a golf tournament in October, a hot dog eating contest and this past April Think Pink held its first Night at the Races, which raised nearly $4,000 for the team.
One of the main ways ReBath Northeast gives to Think Pink is not by sponsoring a race at Night at the Races or a hole at the golf tournament; instead Rome's biggest contribution is his generous offer to donate $50 for every sale ReBath Northeast makes during May. Not only is this a way for Rome to give to a worthy organization, it is also a way to get his sales team and the community involved.
While Rome has been offering this contribution for four years, his partners at ReBath of Albany and ReBath of Lehigh Valley are also donating $50 for each sale their respective team makes this May.
Think Pink team captain and ReBath Northeast employee, Kim Davis, is excited about possibly raising the most money they have in four years from ReBath donations. Last year ReBath Northeast made 39 sales in May and Rome contributed $1,950 to the relay team. With the contributions from ReBath of Albany and ReBath of Lehigh Valley, Think Pink could nearly triple the amount of money they raised in May last year.
All of the money Think Pink raises goes to the American Cancer Society for treatments, scholarship funds, special programs and research.
Relay for Life events take place all over the world to raise money for the American Cancer Society. Not only is it a way to raise money to fund research, but it is also "a life-changing event that gives everyone in communities across the globe a chance to celebrate the lives of people who have battled cancer, remember loved ones lost, and fight back against the disease." (RelayforLife.org).
Even though Cavanaugh does not directly receive any of the money Think Pink raises, her co-worker and close friend Davis says she and her team participate in Relay for Life "to honor the person who makes us get up every morning and face the day with a smile."
The Mountain Top Relay for Life will begin at 10 a.m. on Saturday May 19 and continue through May 20. Fifteen teams, including Think Pink will be participating. While the team members walk, games, food and entertainment will be provided for all in attendance.
About ReBath Northeast
ReBath Northeast is a franchise of ReBath LLC, which sells patented DuraBath SSP™ acrylic products. They are a bathroom remodeling company that specializes in the tub and shower area. ReBath Northeast installs tub and shower replacements, bathtub liners, tub to shower conversions and walk-in bathtubs in as little as one day. ReBath Northeast can also remodel the rest of the bathroom in as little as two days. They service areas in Northeastern Pennsylvania and beyond including the counties of Berks, Bradford, Bucks, Carbon, Columbia, Lackawanna, Luzerne, Lycoming, Monroe, Montgomery, Montour, Northumberland, Pike, Schuylkill, Snyder, Sullivan, Susquehanna, Union, Wayne and Wyoming. For more information about the services ReBath Northeast offers, visit http://www.rebathnortheast.com.
Aimee Fritzges
ReBath Northeast
934 Wyoming Ave.
Forty Fort, PA 18704
1-800-BATHTUB
(570) 283-3005
http://www.rebathnortheast.com
afritzges(at)rebathnortheast(dot)com