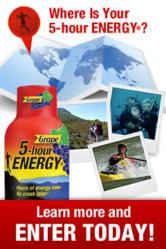 (PRWEB) May 14, 2012
5-hour ENERGY®'s new contest "Where is Your 5-hour ENERGY®?" encourages fans to feature their 5-hour ENERGY® on location, whether it be on a boat, in a car, on a plane or on a train, for a chance to win a year's supply of 5-hour ENERGY®. The more interesting a location is, the better.
The "Where is Your 5-hour ENERGY®?" contest will begin May 14 and continue through August 12, giving fans plenty of time to travel. 5-hour ENERGY® is a loyal travel companion that can provide a needed energy boost after hours of traveling. Now is the time for fans to showcase 5-hour ENERGY® on the go. For inspiration, check out last year's winners.
Participants can enter the contest by visiting our Facebook Page or the 5-hour ENERGY® contest section.
The contest closes on August 12, 2012 and representatives from Living Essentials will choose the top three photos based on creativity, quality and originality of the submission. The top three prizes include:

Grand prize: 1 year supply (365 bottles) of 5-hour ENERGY®
Second Prize: 6 month supply (180 bottles) of 5-hour ENERGY®
Third Prize: 3 month supply (90 bottles) of 5-hour ENERGY®
About 5-Hour ENERGY®
5-Hour ENERGY® is a dietary supplement that provides hours of energy and alertness. It contains a blend of B-vitamins and amino acids, zero sugar and four calories. It is available at retail outlets throughout the United States, Canada, the United Kingdom, Ireland, the Netherlands, and Spain.