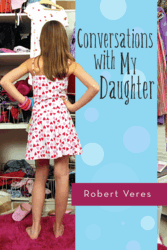 Finally, there's a book that is filled with truth, but which doesn't contain a single word that you have to take seriously.
SAN DIEGO (PRWEB) May 14, 2012
Through the witty banter of parent-child dialogue, Robert Veres' new book, "Conversations with My Daughter" (published by iUniverse), offers a refreshing tongue-in-cheek antidote to the recent 'tiger mom' phenomenon.
As a workable substitute for traditional parenting guides and the more current, controversial fads, Veres compiled his own inspirational, often-hilarious guide on the often over-structured, under-recognized task of raising children.
"For 200 pages, you see the Tiger Dad hanging on by his fingernails as his daughter takes him on the ride of his life, and somehow they both survive and turn out all right in the end despite the father's best efforts," Veres says. "Finally, there's a book that is filled with truth, but which doesn't contain a single word that you have to take seriously."
On the complete opposite end of the spectrum from Ana Chua, the self-proclaimed 'tiger mom,' Veres and his relaxed parenting methods reveal the most intimate, humorous, and universally relatable moments of a father-daughter relationship. He hits on the big questions, like whether or not young children should be allowed to send out for pizza at 2:00 am on a school night, and the small ones like whether a visit from the health inspector is a sign that the daughter should do a more thorough job of cleaning her room.
Offering his approach to dealing with everything from bedtimes to boyfriends in his comedic rendition of fatherhood, Veres brilliantly highlights the subtle challenges of raising children whose every moment is spent scheming the most effective ways to foil parent's best intention, providing many laughs along the way.
"This book is really aimed at a niche target audience of individuals who actually have children but didn't receive the operating manual that goes along with them and other individuals who, themselves might have been children," Veres says.
"Conversations with My Daughter"
By Robert Veres
Hardcover ISBN: 9781462083756 / $22.95
Paperback ISBN: 9781462083749 / $12.95
Available at http://www.amazon.com and http://www.barnesandnoble.com
About the author:
Robert Veres has been an editor, writer, speaker, and commentator in the financial planning profession since 1982. He publishes "Inside Information", an online resource for independent advisors and financial planners. He is also the author of two novels, "Song of the Universe" and "The Root of All Evil". Veres lives in Pacific Beach, Calif. He is the father of five children, a subject which comes up often in his psychological counseling sessions.
Visit http://authorveres.authorsxpress.com/ for more on the author and his book or follow him on twitter @amertigerdad.
EDITORS: For review copies or interview questions, contact:
Dassie Rice
309-335-3760 | drice(at)bohlsengroup(dot)com
(When requesting a review copy, please provide a street address.)