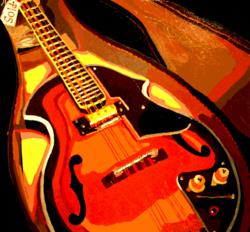 "I feel like the artwork pulls the whole room together as a creative space."
Nashville, TN (PRWEB) May 13, 2012
Harold Kraus has put up some of his work for display in the newly renovated Horton Group office building in downtown Nashville. Showcasing almost 20 pieces throughout the 5,000 sq. ft main room, Harold has added to his nationwide art gallery presence. Kraus commented, "I feel like the artwork pulls the whole room together as a creative space." The room itself boasts reclaimed hardwood floors, vintage interior brick walls and a modern feel lending itself to the bold colors found in Kraus' artwork.
Kraus comments on his website, "All my life, I have been fascinated by the various properties of color. Many people live lives starved of color. It seems as if they are intimidated by it, so they surround themselves with 'safe' naturals like grey or beige. My paintings aspire to fill this color void."
Kraus has recently unveiled his newest collection titled "Professional Series" where he focuses on the lawyers and doctors of our society by painting many of the resources they use every day. When asked about the new series Kraus said, "I'm very excited about my new collection because I don't feel like many artists target the professional audience like I have."
Kraus has also made artwork centered around historically recognizable brands and locations including Nashville landmarks like The Bluebird Cafe and Lower Broadway at night and brands like Jack's BBQ, Sweet Cece's, and more. Many of these pieces are large scale works ranging anywhere from 6'x6' to 10'x10'.
Painting locally since 1979, Harold Kraus came to Nashville for Lipscomb University and has been in Nashville ever since. Aspiring to outgrow his local Nashville artist title, Kraus currently has artwork in various galleries across the country including: the Monte Stabler Gallery in Birmingham, AL; the Southwest Gallery in Dallas, TX; the Lager Quist Gallery in Atlanta, GA; and the Laurel Brook Clubhouse in Nashville, TN.
For more information about Harold Kraus or his artwork you may visit his webpage at http://www.krausgallery.com or you can email him at hkraus776(at)gmail(dot)com.