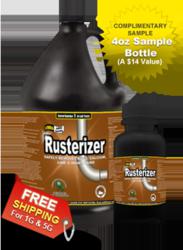 Rusterizer is safe. It is made with unique and natural ingredients. Hence, it is non-toxic.
Seattle, WA (PRWEB) May 12, 2012
Where there is metal, there usually are rust and rust stains. And knowing that rust and its smears are stubborn and difficult to clear, Rusterizer.com launched a product that will help make their removal easier. Additionally, because it is Mother's Day in just two days, the company offered a 17% price cut-off treat to its customers.
Basically, Rusterizer.com is an online company offering a rust removal solution made with non-toxic ingredients. With its product, also named as Rusterizer, it aims to help rust sufferers save their metal items. And that is without spending too much for the rust removal process.
By using non-toxic ingredients, the company also aims to protect the users from harmful chemicals. And of course, along with that is the purpose of helping the environment.
According to one of the company's representative, all items made with iron metal or got any part made of it is susceptible to rusting. That's because everywhere there is water or moisture, he added. And when that moisture comes in contact with iron metal, rust forms, he explained.
Rust removal is the process to clear rust off. However, it requires vigorous brushing thus making it difficult to implement. Because of that, rust removal solutions or sprays are needed. With them, it takes just a little work and time to complete the removal of rust flakes and stains.
See How Effective Rusterizer Is.
However, the problem is that most of the commercial rust removal sprays today are made of toxic chemicals with hazardous effects to health and the environment. But unlike them, Rusterizer is safe. It is made with unique and natural ingredients. Hence, it is non-toxic. The use of it, therefore, poses no threat to health and the environment.
To prove the effectiveness of the product, the company is giving out free samples of the non-toxic rust removal spray. Additionally, if ordered today until Sunday, consumers can also get it in a much cheaper price. The company is offering the product with a 17% discount as its Mother's Day Special. Customers just have to enter product promo code "MOMMA" at checkout to take advantage of the price cut-off.