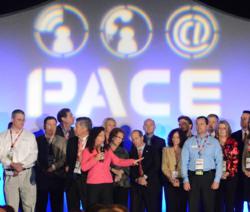 We feel that customer engagement is a much better term to describe the evolution of the communications and business interactions that will support our customers.
Indianapolis, IN (PRWEB) May 11, 2012
During its annual Convention and Expo in Hollywood, FL, the American Teleservices Association (ATA) announced that it has rebranded as the Professional Association for Customer Engagement (PACE). The association also revealed what it calls "Partners in Progress"; key relationships with member companies that it says "recognize the value of pursuing and supporting true customer engagement". The current Partners in Progress are PossibleNow, Five9, NobelBiz, Defender Direct, EPIC Connections, and iPacesetters. More partners are signing on and will be revealed throughout the year.
The nearly 30 year old trade association, described as "the only non-profit trade organization dedicated exclusively to the advancement of companies that utilize contact centers as an integral channel of operations", is getting a facelift to more accurately reflect the evolution of the industry and the leadership the association provides. "As social media and cloud-based technologies radically transform customer expectations, we feel that customer engagement is a much better term to describe the evolution of the communications and business interactions that will support our customers.", commented Phil Grudzinski, CEO of PACE, in his opening speech at the Convention. "The digital transformation that broadband and other internet technologies have provided has forever changed the way we all interact with our customers", Grudzinski continued, "and with a broader agenda, our association is now uniquely positioned to proactively face the future, multi-channel, challenges of engaging consumers."
Chairman of the National Board of Directors, Michael Rauscher, Chief Marketing Officer of HomeServe USA, stated, "In 2012 and beyond, we all have to do more than just offer 'teleservices', 'customer contact' or even 'customer care'… we must discover where our customers prefer to communicate and engage them there."
PACE has numerous member businesses which provide products and services related to customer engagement—from Fortune 500 corporations to technology suppliers to BPOs and contact centers. The common theme amongst these members is their stated desire to provide outstanding customer engagement. PACE provides advocacy, education, networking and commercial value for its members. The association has continued to work with the FCC and FTC, developing consumer advocacy programs which have culminated into an industry certification program and a Self- Regulatory Organization designed to improve consumer privacy and protection. In a video presentation to the association, FCC Chairman, Julius Genachowski congratulated the association on its new direction and new name, stating, "It's a great recognition that times have changed, technology has changed and this industry has grown up. It gives you a better sense that as technology progresses, it's all about customer engagement." PACE will continue its work with the FCC on the Jobs for America program, designed to create jobs through the enablement of broadband capabilities in contact centers and other at- home applications. The Jobs for America program, which began in August of 2011, is already half way through its goal of creating 100,000 new jobs in two years.
The Convention concluded on Wednesday May 2, 2012 with Call Centers CARE; a volunteer event offering attendees the opportunity to spend the morning helping a local charity. This year PACE chose "Feeding South Florida" and sent close to 50 volunteers to help pack food and prepare it for distribution to those in need.