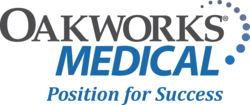 Oakworks has always been a product and customer service focused company.
New Freedom, PA (PRWEB) May 11, 2012
Mr. D'Antonio, who had been Director of Business Development and Sales for LectraJet/Bioject will be in charge of managing Oakworks business development opportunities in domestic and international markets. Additionally, he will be responsible for enlarging the global distribution network for Oakworks products.
Before joining Oakworks, Mr. D'Antonio oversaw Business Development and Sales for LectraJet/Bioject where he managed the company's global distribution network, FDA regulatory issues, sales and the development of key strategic business and OEM partnerships.
"Oakworks has always been a product and customer service focused company. Joe's experience and capabilities will help us to grow our business much more quickly," said Jeff Riach – CEO.
Prior to LectraJet/Bioject, Mr. D'Antonio worked for the General Motors Corporation as the Brand Manager for the Advanced Technology Vehicle Group, Fleet and Commercial Sales Executive and a Portfolio Manager at GM Motors Holding.
"We are very pleased to welcome Joe to our sales organization and I am confident our customers will enjoy working with him to grow our business," said Rich Elsen – CSO.
Mr. D'Antonio has an Executive MBA from the New York Institute of Technology and a BS from West Chester University.
About Oakworks: Since Oakworks' inception, they have maintained a strong commitment to environmental wellness and manufacturing products in the US. Oakworks' business model relies on ensuring sustainable resources - both natural and workforce-related; their proactive plan addresses both aspects of sustainability to ensure they are doing their part to preserve the health of our planet, while at the same time ensuring the well-being of their employees. Learn more about Oakworks' Sustainability Statement.
Oakworks, Inc. is the premier manufacturer of medical, massage, wellness, and spa equipment in the U.S. with over thirty years design and manufacturing. With a 91,000 square foot state of the art facility located in Southern Pennsylvania, Oakworks is known for design innovation, sophisticated engineering, and quick turnaround time. Offering a unique commitment to U.S. manufacturing and environmental wellness, Oakworks is setting the global standard for medical, spa, and massage tables and accessories. For more information, please visit http://www.oakworks.com.