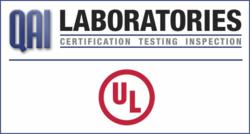 Coupling the speed and cost-effective laboratory services of QAI with the world-renowned UL safety mark is a winning combination for manufacturers.
(PRWEB) May 15, 2012
QAI Laboratories (QAI) and UL announced today a new alliance which benefits plumbing manufacturers by combining QAI's state-of-the-art testing capabilities with certification from UL, the global leader in product safety. Products categories include, but are not limited to, plastic plumbing fixtures, plumbing fixture fittings, vitreous china plumbing fixtures, stainless steel plumbing fixtures and specialty devices.
Product certification is a multifaceted process and an essential part of bringing a new product to market. The newly established alliance between QAI and UL, will streamline the complete process for every manufacturer. QAI and UL will work harmoniously from the start to evaluate the scope of the project and agree on test requirements necessary to obtain UL Mark. This exciting new program ensures compliance to the required standards and delivers the speed to market that manufacturer's desire.
Chris Bowness, General Manager of QAI, commented on the announcement: "QAI is very excited to be teaming with UL. Coupling the speed and cost-effective laboratory services of QAI with the world-renowned UL safety mark is a winning combination for manufacturers. We are able to share the values of providing our customers with top quality services by matching up the premier strengths of both organizations with this partnership."
"Product testing is an essential component of the overall certification process and UL is committed to providing the plumbing industry the most efficient and sophisticated testing services available through firms such as QAI," stated Hank Lambert, General Manager of UL's Global Food and Water Businesses.
UL will be exhibiting at the Kitchen & Bath Industry Show (KBIS) April 24-26, 2012 in Chicago, IL to provide global plumbing product manufacturers with information on testing and certification services.
About QAI Laboratories, Inc.:
QAI Laboratories is a leader in certification, testing and inspections of consumer goods such as building materials and plumbing, electrical and transportation products for manufacturers and retailers. Their registered certification logo provides officials and consumers assurance that products certified by QAI meet the standards referenced on the label. QAI partners with its clients so they succeed by offering cost effective solutions to help speed the regulatory approval process and help get products to market. From identifying code requirements to developing an evaluation plan, testing through inspecting and certifying products, or assisting with the Code Agency evaluation process, QAI has established an international reputation for excellence.
For more information about QAI, visit http://www.qai.org.
About UL:
UL is a premier global safety science company with more than 100 years of proven history. Employing nearly 9,000 professionals in 46 countries, UL is evolving the future of safety with five distinct business units – Product Safety, Environment, Life & Health, Verification and Knowledge Services – to meet the expanding needs of customers and the global public. For more information on UL's family of companies and network of 95 laboratory, testing and certification facilities, go to UL.com.