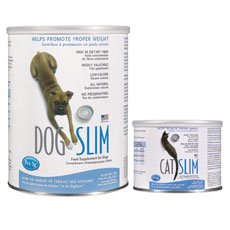 Hampshire, IL (PRWEB) May 15, 2012
If you love PetAg you've probably noticed their recently launched cart feature on their website. If you aren't familiar with them, PetAg, Inc is a leader in pet product development and manufacturing based in Hampshire, Illinois. They offer innovative health and wellness products to pet owners, veterinarians, and other professionals caring for animals, and they now offer a way for anyone to purchase their products directly from their website.
The choice to add a cart feature to the site was easy as it fell in line with the success of their products, high demand, and growth of the company. Shoppers are encouraged to purchase directly from their website where they can find all product information, pictures, education, and resources on pets and pet health.
This month, pet owners, vets, and pet store owners are encouraged to try May's product of the month:CatSlim and DogSlim. PetAg is proud to be behind the formula and manufacturing of these weight management products and hopes to help educate pet owners on the dangers of overweight pets.
CatSlim's line of meal replacement formulas and jerky snacks offers cats a healthy and all natural way to get their weight back to a healthy number. The meal replacements are high in fiber, hormone free, preservative-free, and come in a vanilla flavor that cats love.
PetAg's DogSlim line works much like their CatSlim. The line offers meal replacement and a large variety of healthy snacks for weight management in dogs. It's a simple program for any dog-owner to implement in order to maintain a healthy weight or promote weight loss. Including products like meal replacements, rawhide jerky, mixed fruit and veggie bits, and sweet potato and rice bites, dog owners can make sure their dog's palate is satisfied while keeping their dogs healthy.
CatSlim and DogSlim lines as well as any PetAg products can be purchased directly through their website at http://www.petag.com.
For more information on PetAg please contact Sara Zaccaro at sara(at)randrmgmt(dot)com or by phone at 715.222.1228.