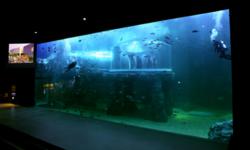 There have been many companies that helped to complete the Expo-aquarium successfully, but in particular we are grateful to RPT for supplying high quality panels within a limited amount of time.
Yeosu, South Korea (PRWEB) May 15, 2012
The largest aquarium in South Korea opened to the public last week, featuring R-Cast acrylic windows from Reynolds Polymer Technology, Inc. (RPT). RPT earned an award of appreciation for completing the entire aquarium ahead of schedule and in time for the opening of EXPO 2012 Yeosu Korea this May.
The aquarium features a total of more than 50 R-Cast acrylic windows from RPT, including a 20 foot (6.1m) diameter underwater acrylic room connected by two tunnels. The underwater room has a domed roof and walls all made out of clear R-Cast acrylic to allow visitors 360 degree views of the aquatic life surrounding them. Each tunnel angles downward into the room, with the longest tunnel measuring just more than 24 feet long (7.3m).
"All the windows we designed and manufactured were for the purpose of offering unique experiences or sprawling views into the underwater ecosystems," said Roger R. Reynolds, III, CEO of RPT. "We designed the exhibits to impress guests – either with panoramic views or with actually being submerged in the exhibit with fish swimming in front of, over, under, and around you."
In fact, the largest R-Cast acrylic aquarium panel on site measures 56 feet long (17m), nearly 23 feet tall (7.0m), and is nearly 20 inches thick (508mm). That's approximately the size of one and a half average length city busses.
But manufacturing and installing these windows was not without its challenges considering the accelerated schedule for the aquarium opening.
"There have been many companies that helped to complete the Expo-aquarium successfully, but in particular we are grateful to RPT for supplying high quality panels within a limited amount of time," stated Sang-Tae Lee, project manager for Hanwha Engineering & Construction, the company that designed, built, and now operates the entire expo facility. "Based on the panel production schedule, it seemed impossible [for us] to open the Expo-aquarium on time, but we … explained our situation to Reynolds… [of how] important the successful completion of the aquarium on schedule was to the entire EXPO [project]."
In fact, RPT was one of only three contractors involved with the entire EXPO project that received an award of appreciation on May 3. Hanwha awarded the honor to RPT for the lengths RPT went to ensuring the panels were completed in time for the project opening, including sending specialists to be on-site as soon as requested for various stages of the construction.
Accepting the award for RPT was Matt Houlihan, Vice President of Sales & Marketing. "I am honored to accept this award on behalf of Roger Reynolds, III and all of the employees from Reynolds Polymer Technology in both the U.S. and Thailand," said Houlihan at the ceremony. "It is always a team effort at RPT when it comes to getting a job done."
The 2012 Yeosu EXPO committee presented the appreciation plaque to RPT for the successful completion of the EXPO Aquarium, which is considered the core of the 2012 Yeosu Expo. RPT is credited with having "contributed with great passion and sincerity for 2012 Yeosu Expo."
The aquarium is part of an international expo that opens this May with an ocean theme. The expo aims to shed light on humankind's knowledge and advancement of technology concerning the ocean and coastal areas and identify ways to resolve challenges facing the ocean.
About Reynolds Polymer Technology, Inc.
Reynolds Polymer Technology, Inc. has completed more than 1,600 projects in 53 countries in their nearly 30 years in business. RPT is known as the leading manufacturer, fabricator, designer, and installer of R-Cast® acrylic and resin sheets. In fact, RPT is the only acrylic aquarium panel manufacturer in the U.S. Their products have been used extensively in the architectural, signage, aquarium, water-retaining, and scientific industries worldwide, including major projects in Asia, Europe, the Middle East, and South America. RPT is constantly raising the standard for what can be done with acrylic and resins. Headquartered in Grand Junction, Colorado, RPT also has operations in Rayong, Thailand. Visit http://www.reynoldspolymer.com for more information. Proud member of the U.S. Green Building Council.