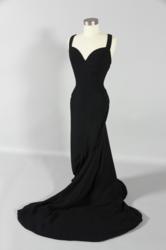 "We are so excited to have this iconic "Madame X' dress by Luis Estevez as the feature lot of our Spring Couture Sale. " Kate La Chance
Beverly, Massachusetts (PRWEB) May 14, 2012
Kaminski Auctions invites you to our Vintage and Couture Auction, June 7th, Thursday at 6:00pm at our auction gallery at 117 Elliott Street, Rte 62, Beverly, Massachusetts. A cocktail hour is planned from 5:00 to 6:00 pm prior to the auction and bidding will start promptly at 6:00pm.
The highlight of the sale is an iconic Luis Estevez designed gown, a perfect replica of the dress featured in the John Singer Sargent painting "Madame X". In the original painting American born Madame Pierre Gautreau posed for Sargent's famous painting, which caused a huge scandal at the time. In 1960 Dina Merrill posed in a replica of the same gown designed by Luis Estevez for fashion photographer Milton H. Greene for Life magazine.
"Milton Greene's classic shot features the American actress and Post Cereal heiress Dina Merrill regally attired in Cuban-born, American Fashion designer Luis Estevez's low-cut black crepe tribute to the famous Sargent painting. Originally published in Life magazine in 1960."
The prosperity of the 1950's in America saw the rise of the American fashion industry and Luis Estevez was a pillar of that new foundation. His name was synonymous with designers like Mainbocher, Pauline Trigere, Arnold Scaasi, and Norman Norell.
In 1955 Mr. Estevez began designing under his own name. In 1956, after marrying Prince Rainier of Monaco, the actress Grace Kelly chose a design by Estevez for her first royal portrait. In 1968 the designer moved to Southern California and was a favorite of Hollywood's royalty, and designed gowns for First Ladies Nancy Regan and Betty Ford.
Kate La Chance, Kaminski's vintage clothing specialist has put together a unique and diverse collection spanning 1950's styles, 1970's retro shift dresses, Bodin knits for vintage collectors to contemporary designer clothing, including something for every taste. Designer labels such as Chanel, Gianfranco Ferre, Christian Dior and Ferragamo, are included in the sale as well as, costume jewelry, handbags, shoes and hats. For more information please call 978-927-2223 .
Kaminski Auctions, located on the North Shore of Boston, has been serving the New England antiques market for over 25 years as a full service auction house and appraisal service for fine art, antiques and estates.
With two locations in Beverly, Massachusetts, including a new state of the art auction gallery located at 117 Elliott Street, and a historic 1850's barn and office facility at 564 Cabot Street, Kaminski Auctions hosts 16 auctions a year.
In today's highly competitive market of fine art and antiques, Kaminski Auctions provides its customers with bicoastal services and marketing with west coast offices in Beverly Hills and San Diego, California.
Specialty departments in Asian Art, Fine Art, Glass, and Lamps and Couture, and Vintage Clothing provide our customers with highly trained and knowledgeable appraisers on staff that will help you determine the true value of your antiques or entire collections. Free Appraisal days are offered every Tuesday from 10:00am-4:00 at our Cabot Street location in Beverly, MA.