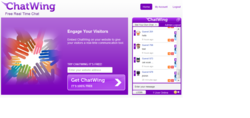 Sacramento, CA (PRWEB) May 11, 2012
Travel blogs are common nowadays, based on the number of people that are really interested in visiting new locations every now and then. A good travel blogger must be able to communicate well with his visitors. Chatwing's developers have realized that the niche of travel blogging is strong. This is why they launched a free chat widget that enables travel bloggers to communicate effectively with their target audience. Adding to that, the chat tool is gradually making a name in the blogosphere.
According to its developers, Chatwing is all about the shifting premise of website chat. Chatting through websites is an enticing activity for many people, and it can also be a part of any extensive marketing campaign. Chatwing is tweaked for this purpose and it is continuously gaining ground in several industries aside from blogging. Fan boys and fan girls have been recently using Chatwing chat widget in order to share their interests. On the other hand, dating blogs and websites utilize Chatwing to create an avenue of communication for visitors.
Travel bloggers can use Chatwing as a customer service extension. Now, travel bloggers can post updates in a real time chat box and the visitors can receive them instantly. Adding to that, the visitors can also use Chatwing to post their questions and inquiries. This is useful for travellers who are keen about the weather. On the other hand, the chat tool can also be used as dialect and food guides.
When it comes to ease of access and installation, Chatwing is one of the leading applications. It has been noted that an actual installation of the shout box takes only few seconds. Additionally, Chatwing also offers a high level of customization to ensure that it will adapt to any types of blogs or websites.
As a bonus, Chatwing also offers Facebook integration. Through this, people can now log in with their Facebook accounts and send out invitations. Chatwing's developers were wise enough to create chatrooms that can handle Facebook's bandwidth.
About Chatwing.com
Chatwing.com has developed live chat software for websites and blogs. It caters to different online communities due to its high rate of connectivity. Everyone can create a customizable live free shout box feature in 1 minute or less. Users have the ability to customize the size, color, and fonts of the chat product. The ability to chat via social media accounts such as Facebook and Twitter enable Chatwing to offer a personal and unique real-time experience to all sites. Chatwing is 100% free and very easy to use.