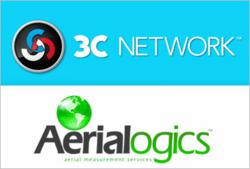 Aerial measurements are critical for roofing contractors in the race to rectify damage and meet insurance requirements in the aftermath of storms
Nashua, NH (PRWEB) May 12, 2012
Aerialogics (http://www.aerialogics.com) an aerial measurement services technology company has established a technology integration with 3C Network (http://www.3C.com) a technology and business services company serving roofing contractors. With the addition of Aerialogics' aerial measurement technology, 3C Network restoration contractors will have web-based, point-and-click access to Aerialogics' 24-hour, nationwide aerial measurement services and use the reported data across 3C's custom estimating tools to save time and resources, reduce risk, and attain measurement accuracy that minimizes project material waste.
An innovation leader in aerial measurement reporting, Aerialogics' services feature state-of-the-art technology that employs aerial photography of building structures as the raw data for generating diagrammed roof measurements that are consistently accurate to 1-2% of actual dimensions. Aerial property images are historical data restoration contractors draw on through the use of Aerialogics' services, to expedite estimates for both property owners and insurance carriers.
"We have seen dramatic growth in the adoption of aerial measurement reporting by insurance providers because the data is third-party, expedites property claims documentation, and reduces safety risks associated with getting up on hazardous structures," said Sean Green, Aerialogics' President/CEO. "We are confident 3C Network contractors using Aerialogics will embrace the convenience while delivering the data insurers expect."
"Aerial measurements are critical for roofing contractors in the race to rectify damage and meet insurance requirements in the aftermath of storms," said L.C. Nussbeck, 3C Network's CEO. "Incorporating Aerialogics into the 3C estimating technology toolset offers 3C members a trusted measurement choice."
3C Network, short for Consumers, Contractors and Carriers Network, is a full-service technology and business solutions provider supporting roofing contractors in North America. 3C Network's technology solutions empower member roofing contractors to deliver industry-leading roof restoration services. For more information about 3C Network, visit http://www.3C.com or call 855-3C-MEMBER or 855-326-3623.
Aerialogics, a leader in aerial measurement technology, provides aerial measurement reporting to the roofing, insurance and solar industries through business partnerships and directly via its corporate website, to lower operational costs and improve business results. For more information about Aerialogics, visit http://www.aerialogics.com or call 877-623-7425.