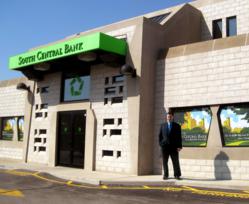 South Central Bank hopes to aid both contractors and homeowners in securing financing for home improvement projects.
(PRWEB) May 14, 2012
South Central Bank is increasing its network of contractors in the Midwest and mid-Atlantic regions in an effort to help more homeowners finance more home improvement loans through the FHA Title One program and other similar programs. These contractors can specialize in window and siding replacement, kitchen and bath remodeling, basement remodeling, new garages or many other improvements homeowners are looking for to keep up and improve their homes without worrying about the difficult housing market.
The FHA Title One program insures loans to finance the light or moderate rehabilitation of properties. This program may be used to insure such loans for up to 20 years on either single- or multifamily properties. The maximum loan amount is $25,000 for improving a single-family home or for improving or building a nonresidential structure. For improving a multifamily structure, the maximum loan amount is $12,000 per family unit, not to exceed a total of $60,000 for the structure. These are fixed-rate loans, for which lenders charge interest at market rates.
Many lenders will offer "same as cash" or 0% interest if the loan is paid off in a very short period of time. These programs should only be used if the homeowner knows they can pay the loan off in the next several months. If the loans are not paid off, the interest rates and the terms can be very difficult for the borrower. With a South Central Bank Title One loan the homeowner knows what they will pay, without a surprise.
South Central Bank uses a network of contractors to make it easier for the customer to obtain long term affordable financing without "teaser rates." Rates are much lower than the "credit card" rates usually offered through contractor financing. As the terms of the loans are spread out over many years, the fixed monthly payment is often lower than a car payment.
This indirect loan program is advantageous to both contractors and homeowners. South Central Bank does not charge discount fees to remodeling contractors or their customers for Title One loans. Only contractors that have been pre-screened by South Central Bank may offer the Bank's products. Because the loan is indirect, the customer never needs to visit a bank for their FHA Title One Loan; the contractor will help the homeowner complete the initial loan application in their home and later return with loan documents to be reviewed and signed.
By offering FHA Title One loans, South Central Bank hopes to aid both contractors and homeowners in securing financing for home improvement projects. Contractors interested in becoming approved dealers by South Central Bank for its home improvement lending program may contact the bank through http://www.remodeloan.com or by calling Joe Graf at (800) 421-4411.
About South Central Bank, NA: South Central Bank, National Association is a community bank with a national banking charter with offices on the near south and near west side of Chicago. Deposit services are provided to residents, local businesses and organizations and their employees. Loans are provided to our depositors and others in the community. For more information visit http://www.banksouthcentral.com or call (312) 421-7100.
South Central Bank, N.A. specializes in certain loans outside the immediate community. The bank is an expert in the home improvement finance industry servicing home improvement contractors in fifteen Midwest, Mid-South, and Mid-Atlantic states. For more information see http://www.remodeloan.com or call (800) 421-4411.