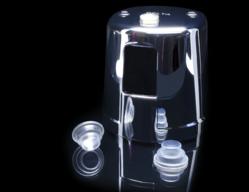 They automatically and inexpensively improve the look of the equipment and insure against damage to the automatic flush mechanism.
Newark, New Jersey (PRWEB) May 29, 2012
Crystal Switch Seals button covers have a soft feel upon actuation, but are tough and resilient mechanical properties providing dependable environment protection up to IP 54. This unique cover can be utilized on existing equipment where the need for an extra protective seal becomes evident after field usage and is especially beneficial when design and visual appearance is important to the end user. ZaGO's Crystal™ Switch covers are available in all sizes and configurations to accomodate any switch currently on the market.
ZaGO Manufacturing Company has been has been producing sealing products for nearly twenty years in Newark, New Jersey. Operating out of a state-of-the-art facility in south Newark in close proximity to Newark Airport, the Port of Newark and all of New Jersey's major transportation and mass transit routes, ZaGO makes daily shipments throughout the United States, Central and South America, Mexico, Canada, Europe and Asia.