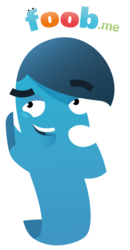 foob.me is in the business of making Facebook profiles beautifull
London, UK (PRWEB) May 15, 2012
Will users pay to spruce up their Facebook pages with professionally designed Facebook covers?
"We think the answer is yes," said Ioannis, founder of foob.me, a new website that connects users with artists who provide them with professionally designed Timeline covers.
"Many people spend hundreds each year on clothes, accessories and cosmetics to improve their appearance," Ioannis noted. "People want to put their best face forward in public. And their Facebook page is an important part of who they are in public. We're offering them the opportunity to buy their own unique online 'outfit' – and they don't have to invest a lot of money to do it. The cost can be as low as $2.99."
Users can browse timeline cover designs on foob.me, choose their favorite and pay the artist to customize it with their photo and text. Users can also have their own unique Facebook cover idea designed by an artist of their choice.
"Foob.me is in the business of making Facebook profiles beautiful" said Milos, a director at the company. "We can do this at very low cost by allowing artists to re-use their graphics templates. Because the templates are customized with user photos, the user's Facebook profile cover will always be unique."
"Our motto at foob.me is 'put your face on,'" Milos said.
About foob Inc.
Foob Inc. was founded in January 2012 and operates its website at foob.me with employees who are based in the UK, India and Greece. For more information or to request press material, contact Milos Jokic at milos(at)foob(dot)me or visit http://www.foob.me.