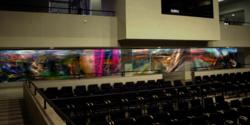 Z Glass' purpose is to bring new life, elegance, and spatial depth to any commercial or residential space.
New York, NY (PRWEB) May 17, 2012
Z Glass Design's purpose is to bring new life, elegance, and spatial depth to any commercial or residential space. Z Glass breathes new life into the entire idea of interior design by utilizing custom glass products.
This New York Based Interior Design and Glass Distributing Firm specializes in importing European artistic glass to the United States for use in residential and commercial construction and decoration. Headquartered in New York City, with plans currently underway to open showrooms in New York, Los Angeles, Boston, Chicago, and Florida, Z Glass Design works with Interior Designers and Architects, in a variety of different industries: residential, commercial, and hospitality (hotels, bars, restaurants, nightclubs). These products transform mere rooms to sophisticated, elegant, and unique spaces.
Zoltan Pongracz, CEO of Z Glass Design Inc., first put his artistic background to work when he immigrated to the United States in 1992 from Eastern Europe. He was cultured and educated in the arts and is an expert finisher. Over time, he formed long-lasting business relationships with some of the country's elite, high-end designers and companies such Christopher Peacock's Cabinetry and Smallbone of Devizes UK. For over 13 years, Zoltan has specialized in interior design, working on some of the world's most elegant homes.
Z Glass Design's products are rooted in art. In 2000, Zoltan reunited with his childhood friend, Zoltan Krizsan, who is an award winning, free hand artist from Budapest, Hungary. His work uses a unique and innovative technique of working with layered painted glass to achieve a revolutionary style. At the World Art Foundation in Los Angeles, Krizsan's artwork surpassed hundreds of artists from 40 different countries to be awarded first prize in the Master's Competition.
This technology has been developed through extensive laboratory testing for over 6 years in Switzerland, Germany, and Holland. Each layer in the three layered glass panel is crafted through burning the paint into the glass. The desired effect is achieved by using contrasting colors and offsetting each layer to create a three-dimensional design that comes to life, especially when hit by light.
Z Glass' products are very versatile and have endless applications to transform a space. Some of these uses include but are not limited to:

Kitchen Countertops
Backsplash Tile
Flooring
Walls
Kitchen cabinet / Cabinet Face
Shower Doors
Furnishings
Bars / Bar Tops
Lighting
Dividers (corporate & residential)
Structure Illustrating Company Logo / Name
Company Sign or Logo
Windows
Pool Lining (Coming Soon!)
Heat Glass for Heating Home (Coming Fall 2012!)
Commercial or residential applications alike, Z Glass Design can transform an area into an unforgettable and unique space. For more information, please visit http://www.ZGlassDesign.com.
Contact Information
Zoltan Pongracz
877.945.2772 or 877.ZGLASS 2
customerservice@zglassdesign.com
To request a brochure, please send an email to brochures@zglassdesign.com with mailing address and a brief description of your interest in Z Glass.