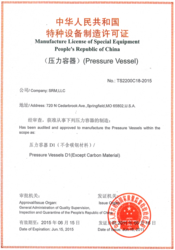 After being honored as the Missouri Exporter of the Year by Governor Jay Nixon, we're making sure we live up to that award.
Springfield, MO (PRWEB) May 14, 2012
HOLLOWAY AMERICA has earned a license to manufacture pressure vessels for companies in China. The license reflects HOLLOWAY's success as an exporter of American pressure vessels and parts. "After being honored as the Missouri Exporter of the Year by Governor Jay Nixon, it's important that we live up to that award. The opportunity to export our American-made vessels to China lets us create new fabrication and manufacturing jobs in Missouri and help boost the local economy," said Sales Engineer Randy Colwell.
After meticulously analyzing HOLLOWAY's pressure vessels and processes, the Chinese Government granted the license, officially titled "Manufacture License of Special Equipment People's Republic of China." HOLLOWAY CFO Dave Simpson described the vetting process: "Before getting approved to manufacture pressure vessels for China, representatives of the Chinese government conducted a 3-day audit of all our business practices—from our quoting and manufacturing processes to our quality assurance and pressure vessel testing processes as well as our invoicing and shipping procedures. The intense audit included physical verification of each piece of manufacturing equipment listed in our inventory, and our time with the officials paved the way for a successful import/export relationship."
The company has built a reputation for high-quality ASME tanks (pressure vessels and tanks that meet rigorous standards set by the American Society of Mechanical Engineers), and HOLLOWAY representatives are pleased to maintain ASME standards while meeting other requirements specific to Chinese manufacturing laws. In fact, HOLLOWAY Quality Assurance Manager Lynn Underwood and Sales Engineer Gary Martin authored a new Quality Manual to ensure all pressure vessels they export to China meet detailed specifications.
The Missouri Department of Economic Development in Jefferson City was instrumental in expediting the license application and approval process, as Underwood stated: "The staff was incredibly dedicated to helping us get certified so Chinese companies can import HOLLOWAY pressure vessels and parts. They put us in touch with the appropriate Chinese government officials and helped us keep the process moving forward." In total, HOLLOWAY AMERICA spent 6 months earning proper certification.
Including China, HOLLOWAY AMERICA exports its pressure vessels and ASME tank parts to 18 countries around the globe and provides field fabrication, machine engineering, pressure vessel design, equipment repair, electropolishing, machining and other fabrication services in numerous states across the US. Because many of the same people who ran Precision Stainless, Inc. now run HOLLOWAY, the company is also a leading resource for hard-to-find original Precision Stainless components for pressure vessels and tanks.
"We're proud of our many craftsmen for working so hard to ensure that the HOLLOWAY brand and the term 'Made in Missouri' are synonymous with unsurpassed quality, locally and internationally," Simpson concluded. With this manufacturer's license approved, Missouri-made HOLLOWAY vessels will now help drive production and processing in China and throughout the world—perhaps most importantly, back home in Missouri and around the US.
For more information, contact HOLLOWAY AMERICA at 417.863.0077 or by email at info(at)HollowayAmerica(dot)com.