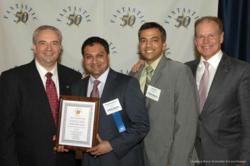 We believe that the success of the company is a tribute to our talented & experienced consultants and our ability to deliver exceptional results on all our client engagements
McLean, VA (PRWEB) May 11, 2012
Virginia's Fantastic 50 award program is a recognition award given by the Virginia's Chamber of Commerce. Privately held companies with headquarters in Virginia, and sales of between $200,000-$100million, as well as positive revenues, were nominated for this award.
The winners were announced during the 17th annual Fantastic 50 Awards Banquet on April 26th, 2011 at the Westfields Marriott in Chantilly.
Octo Consulting Group, a leading provider of technology and management consulting services to the Federal government with over $22 million in revenue, was ranked 11th of the top 50 fastest growing companies of Virginia and awarded 2012 Fantastic 50. The firm is very proud to be part of the Virginia Chamber of Commerce's Fantastic 50 award nomination and winner for the second year in a row!
"We believe that the success of the company is a tribute to our talented & experienced consultants and our ability to deliver exceptional results on all our client engagements." Through our approach to client engagements, Octo offers world-class analysis, relevant insights and intelligent solutions that consistently produce practical, measurable outcomes.
Follow Octo Consulting News by visiting our Facebook page, Twitter Account, or Linked in.