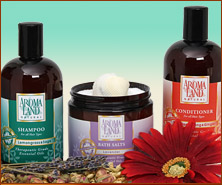 Elma, NY (PRWEB) May 12, 2012
The Made In America Store introduces Aromaland, a company that delivers quality health and beauty products with the benefit of aromatherapy. Aromaland fits the strict guidelines of being US made that the Made In America Store asks vendors to follow. In time for Mother's Day, Aromaland products are sure to please anyone and they make the perfect gift.
Aromaland brings its product line of Shampoos, Bath & Shower Gels, Bath Salts, Conditioner, Hand & Body Lotion and Massage Oil in a variety of different scents. The products not only help cleanse and restore the body but the distinct aromas help relax or stimulate the individual using them. Aromatherapy is the act of altering someone's mood and health using the essential oils that give of a scent.
Aromaland offers all of their products in multiple different scents including Jasmine, Lavender, Lemon Grass & Sage, Rosemary & Mint, Tea Tree & Lemon and Ylang Ylang & Ginger. With six different kinds of products in six different scents, Aromaland is sure to have something to fit a consumer's likes and needs.
Consumers looking to shop for Aromaland's health & body products can visit http://www.MadeInAmericaStore.com or call 716-652-4872 for more information.
Aromaland is a leading source for quality Aromatherapy & Body Care Products. They offer one of the largest selections of Aromatherapy products in the world. Whether consumers are simply looking for an exotic Essential Oil for themselves or a gift for Mother's Day consumers can find it all at the Made In America Store.
The Made In America Store is located at 900 Maple Road in Elma, New York and is committed to selling 100% American manufactured products. You can visit http://www.MadeInAmericaStore.com for more information or shop our catalog of over 290 vendors that are devoted to producing USA made products. All US military personnel both active duty and retired receive a discount every day. Consumers can also keep up to date news articles, events, photos and contests with Facebook, Twitter, Google+, Pinterest and Tumblr!