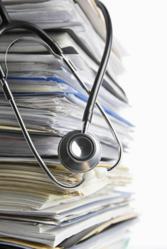 Collegeville, PA (PRWEB) May 29, 2012
In three years, DataTrade Solutions, Inc. has grown from a partnership of two entrepreneurs, with a dream to improve the standard of health care, into a business with clients and employees across the country. In the past three months, DataTrade Solutions has hired four new employees, including two programmers, to handle the overwhelming amount of electronic health record (EHR) application customizations that stream through DataTrade's support system on a daily basis.
In addition to programmers, DataTrade has hired a Graphic Designer/Marketing Director, a Clinical Project Manager and a Project Coordinator/Communications Specialist. With the current team in place, and nothing but more work on the horizon, the team at DataTrade is positioned to continue its growth as more medical establishments make the switch from paper charts to EHR. With the health care sector adding 19,000 jobs in the month of April, according to the U.S. Bureau of Labor Statistics, DataTrade Solutions is prepared to help the healthcare industry handle new employees and new ways of practicing medicine.
DataTrade's line of services, applications and utilities will continue to grow with the health care system as the industry begins to prepare for an unprecedented generation of elderly Americans. All facets of health care are preparing for the boomers, "Demand from the largest demographic in American history is prompting pharmaceutical firms to develop new drugs for aches and pains at breakneck speed." said Shelly Gigante on cnbc.com. She went on to say, "Medical device manufacturers are unveiling better technology every year to help keep patients healthy, and solo practitioners are slowly being replaced by teams of specialists (surgeons, physical therapists, cardiologists, etc.) in the race to improve both patient outcomes and continuity of care."
The continuity of care is an issue that is gathering more weight as the use of EHR's is being mandated by the government organization, CMS. Incentive programs and growing levels of reporting have eligible providers utilizing EHR applications not only for a check, but for the benefit of health care as a whole. On CMS's website the states that, "Keeping people healthy is what really matters." (http://www.cms.gov/About-CMS/Story-Page/better-health.html). DataTrade shares this sentiment, and if the entire health care industry, from the surgeon to the software developer, works together for a common goal it may serve to provide a quality of care that will only improve as EHR applications become more intuitive and operable.
For more information about DataTrade Solutions applications, utilities, and services, visit http://www.datatradesolutions.com or contact Adam Rantz, Health IT Translator and Project Coordinator, at arantz(at)datatradesolutions.com.
About DataTrade Solutions, Inc
Located in Collegeville, PA, DataTrade Solutions is a Health IT solutions provider currently supporting over 1000 physicians across the United States through assessment, customization, implementation and support of IT systems.