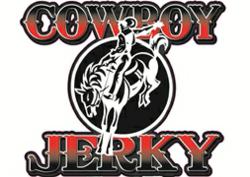 Our family is dedicated to bringing you only top quality American raised beef prepared with the best spices in the finest American Cowboy tradition
Elma, New York (PRWEB) May 13, 2012
The Made In America Store brings consumers an array of products that are guaranteed to be 100% American made. With over 3,500 products from 290 vendors, the selection of items spans multiple departments. Every vendor that brings their products into the store must bring a letter of authenticity, citing where each component was made to manufacture their products. One vendor in particular had to stop selling their product when they found out some of the components used were from Canada. In light of dropping the vendor, the Made In America Store found Cowboy Jerky, an all American jerky company.
The food department at the Made In America Store includes canned items, seasonings, sauces, milk, cheese, candy, cake mixes and even beef jerky. The new beef jerky company, Cowboy Jerky, brings new flavors and styles to the USA made store.
Consumers can purchase bags in 1.75 ounce and 3.25 ounces, or jerky sticks (called Smokies) in different flavors. Flavors include Sweet BBQ, Sweet N' Spicy, Teriyaki, Jalapeno, Honey, Hickory, Habanero, Black Pepper and Original.
Consumers interested in a beef jerky that are 100% American made can visit http://www.MadeInAmericaStore.com or call 716-652-4872 and place an order over the phone.
Cowboy Jerky takes pride in their manufacturing process and the history in jerky. The family owned and operated business is dedicated to bringing the top-quality consumers come to recognize with being made in America. Cowboy Jerky guarantees all their jerkies are made with 100% Beef and are 97% fat-free.
"Our family is dedicated to bringing you only top quality American raised beef prepared with the best spices in the finest American Cowboy tradition" said a Cowboy Jerky Representative.
The Made In America Store prides themselves on bringing 100% American made products to its consumers. Our commitment of bringing 100% American made products is such a priority, that we will stop doing business with vendors if information is found that they are not 100% American made.
The Made In America Store is located at 900 Maple Road in Elma, New York and is committed to selling 100% American manufactured products. You can visit http://www.MadeInAmericaStore.com for more information or shop our catalog of over 290 vendors that are devoted to producing USA made products. All US military personnel both active duty and retired receive a discount every day. Consumers can also keep up to date news articles, events, photos and contests with Facebook, Twitter, Google+, Pinterest and Tumblr!