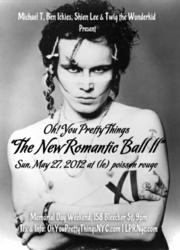 New York, NY (PRWEB) May 14, 2012
Michael T, Ben Ickies, Shien Lee & Twig the Wonderkid Present: Oh! You Pretty Things 2nd Annual NEW ROMANTIC BALL
Sunday 05.27.12
Oh! You Pretty Things: The New Romantic Ball II w/ Michael T. & The Vanities, This Ambitious Orchestra, The Flying Fox, Omri S.quire, Twig the Wonderkid, and many more, presented by Michael T., Benjamin Ickies, Shien Lee, and Twig the Wonderkid

* * * * * * * * * * * * * * * * * * * * * * * * * * *
Oh! You Pretty Things (OYPT) returns with their second-annual new romantic jubilee celebrating the children of glam—the Blitz Kids and New Romantics—featuring live performances by the legendary Michael T & the Vanities, the incredible 22-piece chamber-rock group This Ambibitous Orchestra, Starbolt 9, and Hussle Club, with a slew of special guests, including burlesque by The Flying Fox.
OYPT has becoe an staple at LPR, and renowned for their wild antics and the incredible dress of the patrons. Don't miss OYPT second-annual New Romantic Ball.
***
MC: Chi Chi Valenti
DJs Twig (Glamdammit), Patrick (SalvaHon/NecromanHc), Damian, Omri S. Quire spin glam, goth, and new wave all night.
Bands: Starbolt 9, Hussle Club, Michael T & The Vanities, & This Abitious Orchestra
Featuring Special Guests: Kayvon Zand, Peter (The Dossier, Natasha Komis, and more.
Hosts: Laura RebelAngel, Lady Valtronic, Miss Tiffany, Vulcanus, Kevin Dapper & Demanda Dahling
Photos: Nicki Digital
Dress Code: Blitz Kids Realness, Retro-Futurists, New Wave Melodrama, Peacock Punk
###