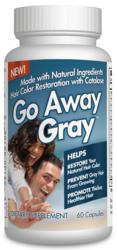 It's a welcome solution for people who are tired of the time and expense of hair coloring
Sparta, New Jersey (PRWEB) May 14, 2012
Reversing and preventing gray hair is now as easy as swallowing a pill. And for millions stubbornly bucking the new trend of going gray gracefully, this all-natural hair supplement is attracting much wanted attention.
Rise-N-Shine, an all-natural supplement company based in New Jersey, has created an innovative supplement to combat gray hair. It's called Go Away Gray, and it reverses and prevents gray hair from the root.
Go Away Gray contains the enzyme Catalase, which the absence of, can turn your hair gray. Go Away Gray is specially formulated to reverse existing gray and stop new gray hair from starting.
Go Away Gray creator Cathy Beggan states, "According to recent scientific studies, low levels of Catalase in your body can turn your hair gray. Hydrogen peroxide is naturally produced by the body and Catalase breaks it down. If there is a dip in Catalase levels, hydrogen peroxide cannot be broken down. This causes the hydrogen peroxide to bleach the hair from the inside out, making it gray."
Beggan continues, "Go Away Gray combines Catalase with other nutrients to stop gray hair and promote thicker, healthier hair. It won't change the gray hair that's already grown out, but it will change the new growth at the root back to your original color, and prevent further graying. It's a welcome solution for people who are tired of the time and expense of hair coloring."
A one-month supply of Go Away Gray is available for purchase in select stores and online at goawaygray.com for $29.99.
# # #
Links to the scientific studies and related articles:
http://www.fasebj.org/cgi/content/abstract/23/7/2065
http://www.sciencedaily.com/releases/2009/02/090223131123.htm
http://www.webmd.com/skin-problems-and-treatments/news/20090225/why-hair-goes-gray