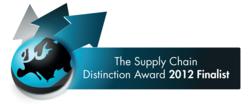 Atlanta, GA (PRWEB) May 14, 2012
PrimeRevenue Inc., the leading SaaS platform for global Supply Chain Finance (SCF), today announced that the company has been named as finalist for the Supply Chain Distinction Awards 2012 in the Best Value Chain Solutions Provider and Supply Chain Technology categories. Winners will be announced at the prestigious awards ceremony taking place on June 20th 2012 at Maritim Hotel Berlin, Germany.
World Trade Group's 5th Annual Supply Chain Distinction Awards recognize outstanding achievements in the area of supply chain and logistics. PrimeRevenue's award nominations focus on the great value that the company's award winning technology delivers to its global client base. With a 100% uptime record for the past 24 months and a payment accuracy rate of over 99.99% during the same period, the PrimeRevenue OpenSCi™ SCF solution connects trading partners and multiple financial institutions around a common view of future-dated financial settlement, allowing all parties to reduce the excess working capital and expense caused by cash flow uncertainty.
"Being selected as a finalist in the Supply Chain Distinction Awards is a great honor," said PJ Bain, PrimeRevenue CEO. "PrimeRevenue operates the largest SCF programs in the world helping multiple Australian, Asian, European, and North American clients achieve more than $100 million each in working capital reductions. PrimeRevenue OpenSCi™, the leading global, multi-bank, multi-currency SCF platform delivered on the Cloud processes over $52 Billion in transactions annually and provides more than $18 Billion in on-demand, low cost financing to suppliers in 37 countries and 17 currencies. We are proud to be recognized as the leading solution in the market today," added Bain.
About PrimeRevenue,Inc.
For Global 2000 organizations who view their supply chains as a strategic asset and are seeking to increase supply chain efficiency, PrimeRevenue is the leading provider of multi-bank Supply Chain Finance (SCF) technology and services. The PrimeRevenue OpenSCi™ platform and working capital advisory services provide these organizations with the control and flexibility required to drive superior SCF results, reducing cost and capital risk throughout their supply chains and forging stronger supplier relationships. Headquartered in Atlanta, Georgia, USA, PrimeRevenue also has offices in London, Paris, Frankfurt and Prague in Europe, as well as in Melbourne, Australia, and Hong Kong, Hong Kong SAR, and operates some of the largest SCF programs for customers around the globe. For more information, visit http://www.primerevenue.com
###
Contact:
Oana Leventi-Perez
PrimeRevenue, Inc.
(o)+1-404-665-3768
(c)+1-678-368-2583
oleventiperez(at)primerevenue(dot)com