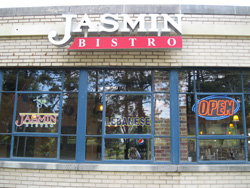 Raleigh, NC (PRWEB) May 14, 2012
Jasmin Bistro's two locations present a high quality Mediterranean/Labanese menu to serve the NCSU and Cary communities. Consolidating services in the Triangle Area of North Carolina, the eatery can easily prepare dishes with fresh, local ingredients. The debut of their newest location on Hillsborough St. in Raleigh promises the same authentic recipes to the students and community of Meredith College.
NCSU students and Cary residents regularly flock to Jasmin Bistro for unique blends of Greek and Lebanese fare that are entirely made from scratch. With the menu's marked success in both locations, the bistro is blazing onto the Meredith campus with confidence in its ability to lure more throngs of famished, kitchen-wary students who appreciate authentic Mediterranean cuisine.
On the menu, Gyro platters and kabob entrees coax Greek-loving palates, while chicken shawarma and falafel options add a touch of Lebanese culture to the array. The bistro staff dresses zaki dishes in eggplant, spinach, falafel, or chicken varieties. Hummus, grape leaves, feta cheese, and Greek olives dapple plates with a burst of distinctive, ethnic flavor.
Jasmin Bistro aims to prepare every order with an artisan's attention to detail, yielding a visual presentation that charms patrons as much as the scent of the cuisine. The restaurant's aesthetic, well-crafted dishes stimulate appetites with artistic garnishes, such as the sprinkling of feta cheese that frosts dolmas, served over fresh tomatoes. These intricate touches show Jasmin Bistro as an establishment focused on a higher degree of diner satisfaction.
With delivery and takeout options available, Meredith College students can enjoy freshly made Mediterranean offerings without interrupting the essential living room cram session. Jasmin Bistro also caters to Raleigh, Cary, Durham, Chapel Hill and surrounding areas.
About the company:
Jasmine Bistro is a family owned and operated Mediterranean restaurant, which uniquely blends both Greek and Lebanese (Eastern Mediterranean) cuisines. This unique menu, which is made from scratch in it's entirety, ranges from the famous kabobs, hummus, Greek salad, gyros, grape leaves, chicken shawarma, feta cheese, Greek olives, and many other great delights.
There are now three locations - two in Raleigh, NC and one in Cary, NC. Using a mixed of local fresh North Carolina produce, imported high quality ingredients, and great attention to details, is what makes Jasmin Bistro's food unique, balanced, and delicious. Please visit http://www.cateringbyjasmin.com for more information.
"For the last 20 years they made the Triangle area of North Carolina their home. They always have been eager to share their food and culture with their friends and neighbors in North Carolina."