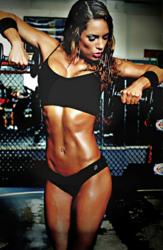 The world's hottest and most in demand celebrity master trainer Jennifer Nicole Lee is celebrating with her worldwide fitness fans the moment they all have waited for: the release of her much anticipated celebrity training method called JNL Fusion.
Miami, FL (PRWEB) May 13, 2012
Jennifer Nicole Lee is the celebrity master mind behind the hottest training method to date, JNL Fusion.
Super spiking is what makes JNL Fusion unique and exclusive. Super spiking is what it works, the fusion of rapidly alternating between weight bearing exercises and high octane cardio bursts. It's a revolutionary approach to getting in shape and losing weight fast. "Forget everything you know about fitness to date. If you want a rock solid butt, a totally defined upper body that will get you noticed, and 'kiss me' abs, you need JNL Fusion." This mother and international cover model, JNL is on fire with her passion to get as many real people real results.
Glutes that salute, wicked strong back and flat sexy abs are just some of the results many JNL Fusion athletes are experiencing. Jennifer includes her own 77 page fitness guide, which is the "Fuel Up to Blast Fat" nutrition guide.
To train with JNL privately one on one, some pay up to $1,500 for a power packed session. But now her exclusive super fitness model secrets are open to the general public and for real people who want super results. However, JNL is so passionate about her method, she worked for over an extensive period of time to capture her trademark superior athletic drills, workouts and method on a complete 12 exercise DVD box set which is now available at http://www.JNLFusion.com for a small investment price.
She also certifies a choice select group of individuals in her method, working with VIP Personal trainers, gym owners, and studio practitioners to become one of the elite group of Master Trainers in the JNL Fusion Method. She hosts a World Conference every year in Miami in January, where this power summit serves as a private gathering for the worlds Ambassadors of the method.
For more info, please visit http://www.JNLFusion.com