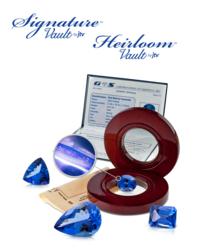 We open our vault for this event just twice a year and we feel confident that viewers will take advantage of this great opportunity.
Knoxville, Tenn. (PRWEB) May 15, 2012
Jewelry Television® (JTV), the world's authority on gemstones, will hold its Tanzanite Semi-Annual Event beginning May 18. During this three-day event, JTV will give customers the best Tanzanite prices of the season and debut the Merelani Tribute Cut™ as well as featured stones from both the Signature™ Vault and Heirloom™ Vault collections.
"A thousand times more rare than diamonds, Tanzanite has shown a huge increase in popularity since it was first discovered in the African nation of Tanzania," said Jerry Sisk, graduate gemologist and co-founder of JTV. "Our semi-annual event will showcase the finest assortment available and our customers can shop with confidence, knowing JTV has leveraged its worldwide buying power to bring them extraordinary gemstones at the best possible values."
From the exotic Merelani Hills of Tanzania, each piece from the JTV's Vault collections has been sorted and graded by gem professionals for consistent color and clarity. Stones are then inspected, cut and polished before being sent to an independent lab for certification and laser inscription. During the laser inscription process, a unique serial number is laser inscribed on the girdle of the stone.
According to Sisk, the biggest benefit of this laser inscription process is that it gives customers peace of mind knowing their gemstone has a permanent identification number. Each gemstone is also accompanied by a certificate which provides significant information about the stone's shape, measurements, weight, tone, intensity, hue, cut and clarity.
JTV's Tanzanite Semi-Annual Event will also showcase one of the most unique selections of custom-cut Tanzanites such as the Merelani Tribute Cut. This unique cut requires the skill of an experienced lapidary and exhibits intricate inner star patterns.
"JTV's semi-annual Tanzanite event brings the most desirable gemstones directly to our customers," said Sisk. "We open our vault for this event just twice a year and we feel confident that viewers will take advantage of this great opportunity."
To view pieces from JTV's Signature™ Vault and Heirloom Vault collections, or to learn more about the Semi-Annual Tanzanite Event, please visit http://www.jtv.com.
About Jewelry Television®
Jewelry Television® (JTV) is the only broadcast shopping network that focuses exclusively on the sale of jewelry and gemstones. The privately-held company was founded in 1993 and broadcasts high definition programming 24 hours a day, seven days a week, to more than 80 million unique households in the U.S. Jewelry Television® was recently ranked the 14th largest retailer of jewelry in the U.S. by National Jeweler. JTV.com is the fifth largest jewelry destination on the internet according to Internet Retailer's Top 500 Guide for 2010. For more information, visit JTV.com.
###