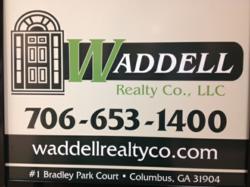 Each new idea we implement is an effort to better serve our valued customers and keep them informed on local & national housing market trends
Columbus, Ga (PRWEB) May 13, 2012
You may have noticed Waddell Realty's look has changed. Last month the 27 year old company launched a new website. This website is just one way Waddell Realty continues to provide the most comprehensive services around.
Allen Parham, Managing Broker at Waddell Realty, took into great consideration the people who would be using the website. With that in mind he strived to ensure the site would be user friendly and informative for buyers, sellers, and real estate agents.
The "Listing Manager Account" allows buyers to receive real time updates on properties, that meet their specific criteria. Also, they created a mobile app ,which allows consumer and agents to view properties from their iPhone and iPad
Of course, you can also find a plethora of information on the surrounding area, as well as following links to the local schools and property tax websites.
Along with the new website, Waddell Realty has also launched a Facebook Fan Page and Twitter Page. According to Reynolds Bickerstaff, "Each new idea we implement is an effort to better serve our valued customers and keep them informed on local & national housing market trends."
If this wasn't enough, they've also redesigned the company yard signs. With these changes, Waddell Realty is bringing together the best of the past, present, and future to make the ultimate difference for their agents and customers.
The new website is still at http://www.waddellrealtyco.com, and is worth checking out if you are interested in buying, selling or just getting into the real estate world.