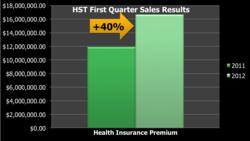 Lombard, IL (PRWEB) May 31, 2012
Healthcare Solutions Team has seen a 40% surge in insurance policy sales in the first quarter of 2012. Company executives attribute much of this rise to today's advantageous prices and benefits, which are a result of changes in the industry due to the federal health care reform bill.
"In many cases, our clients are finding they can get much better coverage and also save money thanks to the health care reform provisions," said Grant Born, principal with Healthcare Solutions Team. "Right now is the prime time to purchase affordable health insurance as today's applicants can enjoy many of the benefits of health care reform without being saddled by the costs associated with it."
Having a major impact on affordability is the medical loss ratio (MLR) policy, which states that all individual major medical carriers are required by law to pay out 80% of their premiums in medical claims, care and health care quality improvement rather than on administrative costs. In 2012, insurance companies became required to provide a rebate to each policyholder if they did not comply.
"Because of MLR, we now see a much richer, unlimited, individual health policy without a much higher cost," said Joe Eichman, principal at Healthcare Solutions Team.
Another benefit of the Patient Protection and Affordable Care Act (PPACA) is that applicants now can enjoy guaranteed acceptance for dependent children. And because the "guaranteed issue" provision is not scheduled to start until 2014, healthy applicants can lock into today's lower rates and avoid expected rate hikes.
PPACA also mandates that all policies include unlimited free wellness with no copays or deductibles. This includes mammograms, pap smears, even colonoscopies. Children can stay covered on their parents' plans, regardless of marital or student status, up to age 26.
And all lifetime and policy caps have been eliminated.
"Our suggestion is to lock into a policy with these benefits and today's pricing," said Eichman, "because many of these benefits could go away if the law is deemed unconstitutional and scrapped by the Supreme Court."
Healthcare Solutions Team's goal is to ensure its clients receive the best coverage at an affordable price while the PPACA is still in tact. The company strives to educate consumers on the rapidly changing health care industry and the insurance benefits available under the health care reform.
Named America's #1 Health Insurance Agency by Assurant Health in 2011 and #2 by UnitedHealthOne, Healthcare Solutions Team is one of the country's premier health and dental insurance agencies.
Based in Lombard, Ill., Healthcare Solutions Team has agents across the country who provide personalized solutions and optimized plans to fit each individual's budget and needs. The company's goal is to make affordable healthcare accessible to everyone.
For more information on Healthcare Solutions Team, contact Jackie at (630) 261-3000 or jbuffo(at)aplanforeveryone(dot)com. Or, visit the company's website at http://www.HealthcareSolutionsTeam.com.