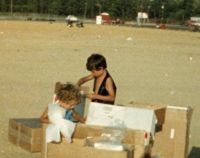 There is no helmet law for horseback riding in Virginia – yet.
Independence, Virginia (PRWEB) May 19, 2012
Fox Creek Leather is a small company nestled in a remote section of the Blue Ridge Mountains in the South West corner of Virginia that sells high end made-in-the-USA leather motorcycle jackets backed by a lifetime guarantee.
Their worldwide following of discerning clientele has drawn motorcyclists to the tiny hamlet of Independence from Japan, New Zealand, Australia, France, Scotland, and Germany in addition to Canada and almost every state of the union.
Due to winding roads, drop dead scenery and a multi season riding climate this part of the Blue Ridge Mountains is a motorcycle Mecca.
Fox Creek Leather got its start with the owner, Paul Trachy, his wife and two kids embarking on a gypsy lifestyle crisscrossing the country working the motorcycle circuit. Paul's oldest son Pete - who had worked on the road with his Father since he was six - put the business on the internet in 2002 which enabled the family to drop out of the grueling pace of the motorcycle circuit and focus on internet sales. When the recession hit Paul was wondering what he could do to stabilize his business. Looking out his window the only thing he could see besides mountains were horses. Looking at his employees the only thing he could see besides motorcyclists were equestrians.
So Fox Creek leather capitalized on something the employees were familiar with that also struck a nerve with both local and tourist horseback riders. They expanded into tack and western apparel bringing the same quality and customer service that distinguishes them in the motorcycle industry. Paul thought he would be leaving behind the stigma of danger and daring that accompanies motorcycling until he came across a study that showed that riding a horse is twenty times more dangerous than riding a motorcycle. Perhaps this explains why many of the same people share a passion for the horse whether it is steel or flesh and bones.
Here in Virginia all motorcycle riders are required by law to wear a helmet. There is no helmet law for horseback riding in Virginia – yet.