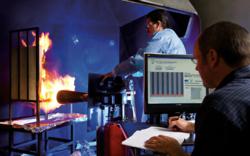 What makes our testing services so valuable to our clients is our ability to provide any level of service
Tacoma, WA (PRWEB) May 16, 2012
General Plastics Manufacturing Company today announced the official launch of its Testing Services as a standalone offering. The maker of rigid and flexible polyurethane foam products is extending the flammability, physical property and developmental testing services it already provides for a number of existing customers to the broader market. These services are particularly suited to organizations in the aerospace, defense and nuclear containment industries.
"What makes our testing services so valuable to our clients is our ability to provide any level of service – from R&D testing, to pre-testing of a customer's proposed design, to testing for final certification," said General Plastics' President Bruce Lind. "Our extensive background in the formulation, processing, testing and application of rigid and flexible polyurethane foam materials gives us unique insight into their distinct properties and versatility."
General Plastics' Testing Services Group offers a wide range of tests in its onsite testing laboratories, which include an FAA-approved burn-test facility. All tests are conducted using calibrated equipment that is traceable to NIST, and are designed to accommodate customer requirements efficiently, conveniently and cost-effectively.
When bringing new designs or products to market today, companies can no longer afford to wait months to have testing completed and receive their test results. General Plastics offers rapid turnaround upon receipt of samples or design specifications, even when it constructs test samples. Test reports are frequently issued the same day the test is run. What's more, local access to FAA Designated Engineering Representatives (DERs) simplifies flammability certification, saving customers time and money.
Services extended by customer request
The company's services are underpinned by decades of experience performing quality assurance to exacting standards for its own products. Over the years, longtime clients, including dominant players in the aerospace, defense and nuclear containment industries, sought out the company's expertise to support their own testing needs.
"We were already testing our own products to advance their development and certify their performance. Then, about 10 years ago, we began assisting clients with some of their product testing," explained Lind.
This involved building samples of parts from their designs, writing test plans and performing the testing, which included onsite FAA witnessing. Additional services have been added over the last decade, and the company obtained FAA certification for its seat cushion oil-burn tests in 2010.
"Since then, as customers have begun asking for more specialized testing and the convenience of a full-service testing group, it made sense for us to make these capabilities available to a wider audience on an outsourced basis and promote our dedicated Testing Services Group," said Lind.
Consistent performance – coupled with the company's ability to navigate myriad test methods, specifications and customer requirements – have made General Plastics a recognized center of excellence for physical property, flammability and developmental testing. Learn more about General Plastics' Testing Services.
About General Plastics Manufacturing Company
Tacoma, Washington-based General Plastics has been a leading innovator in the plastics industry for more than 70 years. The company develops and manufactures rigid and flexible polyurethane foam products, which include its signature LAST-A-FOAM® brand series and build-to-print composite parts.
Through its network of distributors, General Plastics exports products to 25-plus countries for the aerospace and defense, nuclear containment, composite core, prototype and modeling, construction, dimensional signage, testing, marine and renewable energy industries. General Plastics is certified to ISO 9001:2008/AS9100C and meets such demanding quality systems as NQA-1, Mil-I-45208A and Boeing Company D6-82479. Visit http://www.generalplastics.com.